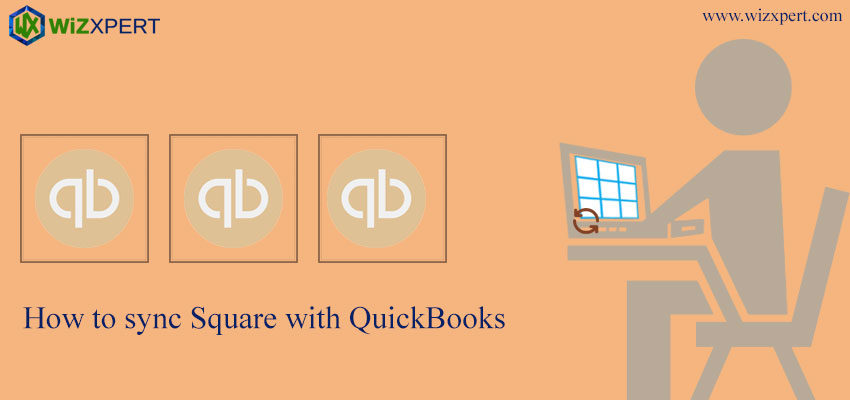 As we know that small-scale and medium scale businesses are using a different type of payment methods to better serve their clients. Today, one of the most famous applications for sales transactions is Square. Business who has already harnessed the power of QuickBooks Online is able to seamlessly sync Square with QuickBooks.
Do you know how to sync Square with QuickBooks? don't worried about that here we will describe sync procedure steps, you will follow these steps and sync Square with QuickBooks.
This is done with the help of Sync with Square: QuickBooks free application that within the QuickBooks Online app store.
Read also: What is Intuit QuickBooks Sync Manager and what it does?
Features of the QuickBooks Online Sync with Square update are
It can Automatically import paid invoices from the Square as invoices, payments, and deposits into QuickBooks Online.
It enters data in such a way that credit card payments are batched together as deposits, so they can be easily reconciled.
Item details are preserved(providing the item names exit within QB Online) and sales data include taxes, tips, and discounts.
Refunds are imported.
With the help of a square, you can import data up to 18 months of transactions.
Limitations of sync Square with QuickBooks update
While QuickBooks and Square are more powerful together, it is most important to understand some of the limitations of the integration. Some of these limitations are:
You can't import buyer details such as name or email id. While viewing the data, they are all seen as "Square Customer."
A summary of daily transactions is not available. Presently, daily transactions come through one by one after settlement, meaning that a large volume of individual sales might be hard to see.
Reviewing transactions before they are imported.
Users can't pay a QB invoice using Square.
For multi-location businesses, there may be finite functionality based on how they are set up. If your position all operate under one QB account, then Sync with Square is the best application for you.
A deposit is generated by fees accounted for when Square pays out to your bank account.
Square for QB Desktop is inventing but not yet available.
Square sails are imported as invoices and payments in the QB.
Important Items to check before installing
You will need to be logged into the computer that has QuickBooks when you install the app.
This QuickBooks desktop that you are installing commerce sync on needs to be running windows 7,8,10. Note: You currently can't install commerce sync on a Mac.
The best browsers we'd like you to install with are Firefox or Chrome.
The QB company files you wish to sync needs to be open during installation.
You require to sign in as the Admin and in single-user mode in QB for the install to work properly.
We suggest that you reboot(turn off and then back on) the PC that you are installing on, prior to installing.
Steps to Installing Commerce Sync
Following steps help you for sync,
First of all, Sign-in to your Square account.
Click on apps option in your Square account.
Scroll down to search the commerce sync app and select get started or launch the app.
On the Permissions pop up, click allow at the bottom.
After that, If you have many locations in your Square account, you will connect Commerce Sync to each location personally. Select the location that you are now connected.
After that, Download and run the Commerce Sync installer.
Once the installer has finished downloading, open it and click run.
 You see the Commerce Sync for Desktop Screen "Starting Up".
You require logging into the Square account again.
Double-check that you have QB open and the right company file and click continue.
After that in QB, you will view a pop-up check the box next to "Yes, always allow" then select "Continue." Sometimes this screen is hidden behind other QuickBooks windows if you don't view this screen minimize your other QB windows to find it. Note that when you are installing another location, this step is skipped.
After that, select "Done" on the second pop-up.
Choose your settings for Commerce Sync: the time zone your Square account is in, whether you would like sales transferred into a single income account or sales by category and what bank accounts or Commerce Sync to post the deposit information.
After that, enter your billing information. Your free 15-day trial starts today. After 15 days, your customer's sync subscription will begin.
After that, you will see the installation complete screen and then click the View Dashboard button.
At this time, we suggest you open the Commerce Sync for Desktop app up immediately and waiting for the sync to complete. The green permit will stop spinning and the next sync timestamp will be showing.
Once the sync is complete, go to the commerce sync web dashboard and review your settings.
Better together
When both are synced, transactions from Square automatically appear within QuickBooks.
Do away with manual data entry:
Now you can don't take the tension of manual data entry because your sales, fees, taxes, tips, and discounts automatically import into QuickBooks overnight, saving your time.
Easily reconcile your books
Sync features help to help to keep your books up to dates such as your deposits, payments, refunds, and fees that are matched against your bank statement.
View all your fees in one place
It shows you all your payment processing fees associated with Square.
Invoices are created automatically
By sync feature automatically create the invoices.
helpful article for you
I hope you will find the article useful and well understood how to sync square with QuickBooks. For more information, you can dial our QuickBooks Helpline Number +1-855-441-4417.