Quicken vs Mint which one is a better personal finance application? Many users are often confused when comparing these two most popular accounting software. In this article, we will get to know more about Quicken vs Mint so that it will be easier for the users to choose the better one. The article is going to provide you all the details of both platforms, and then it is you to decide as per your need and requirement for which one you go on. So, go through the detailed article collect the answers and solutions to all your queries. For more info contact us toll-free ; +1-844-405-0904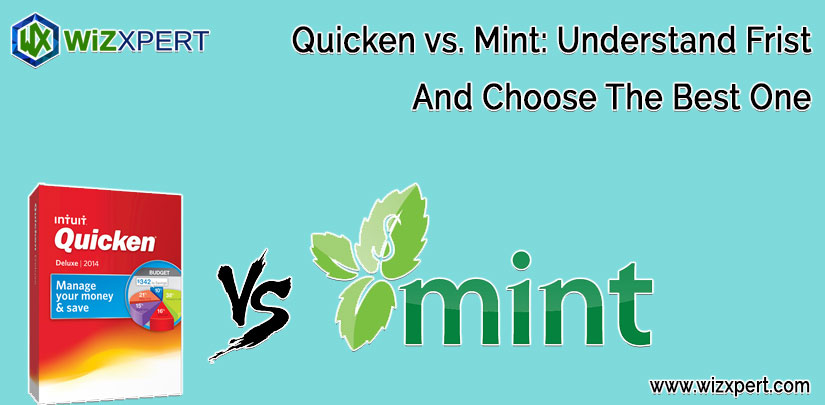 As we all know, Quicken and Mint are the two most popular personal finance applications. That's why it is difficult for users to decide which one is better. So, let's discuss them in detail so that it will be easier for you to make the right decision. Before doing that if you want to compare more accounting software then you can take a look at the difference between Quicken and QuickBooks also.
Quicken vs Mint: Take a look at both
Quicken is nothing but a desktop application that you can install on your Windows or Mac. If you are in search of full-service finance software then you should opt for Quicken. This software also has two different versions Quicken Online and Desktop.
Quicken also gives you the facility to pay bills, keep track of your money and keep budgets. It allows Quicken's desktop software to sync up with the mobile app.
On the other hand, the Mint app was first started in 2006 and was acquired by Intuit in 2009. Mint is known as a free online-only personal finance app and is a cloud-based service. Hence, you can access it via any web browser or mobile app on your iPhone, Android smartphone.
One thing you should need to know is that there is a benefit of using mint as your financial data gets updated automatically, whenever you visit the site.
Moving further just have a look at the features of both Quicken and Mint
Quicken
It reconciles bank statements that allow checking recorded transactions against the current bank statement.

Allows keeping your data on your own computer.

It offers retirement planning.

Using Quicken, it is easy to generate tax reports.

With this, you can easily pay your bills.
Mint
It gives an alert message via email or SMS. And, also suggest ways to save money on transaction fees.

Provides the facility of credit score tracking.

Has the investment tracking facility.

With Mint, you can easily calculate your net worth easily and efficiently.

Mint can be easily accessible by an Apple Watch.
Comparison Between Mint and Quicken
Now, let's compare Quicken vs Mint, Look at below:
Budgeting
Interestingly, both apps provide a better service of budgeting. Therefore, you can say there is a tie between them in the case of budgeting.
You know where your cash is going and can deal with your funds well with it is possible that one. The two administrations are sufficiently adaptable for any budgeter to stop over-drafting, set up a methodical method to square away Mastercard obligation, set up investment funds, and deal with your spending. Furthermore get cautions for unordinary action.
Stimulate offers a powerful planning apparatus that has enormously profit by late upgrades. Mint's planning programming is likewise simple to utilize and outwardly engaging.
Also, both have been around sufficiently long that they're suitable choices to pick between for fundamental planning. Both, truth be told, are amazing planning applications and practically identical to each other in many ways.
Synchronization
The two stages give programmed synchronization of your bank, Mastercard, and credit accounts with numerous monetary establishments. Well, in the case of synchronization Quicken is better than Mint. While Mint backings countless and money-related administrations, it likewise appears to have many specialized issues with synchronization.
This is a progressing grievance among clients; you can feel their disappointment when you read their remarks on synchronization on Mint's discussions. Not exclusively does Mint appear to have a considerable measure of troublesome issues, they appear to have awful notoriety for not settling the synchronization issues in an opportune manner.
Synchronization is a territory where Quicken is to some degree superior to Mint, however on the grounds that it utilizes Intuit's online administrations, it might have comparative synchronization issues.
On the off chance that you can't utilize the programmed techniques to download your data practically every monetary organization bolsters the open standard. QFX design with Quicken.
Finally, If synchronization breaks with Quicken, nothing keeps you from physically entering your diary passages. While with Mint you can't enter any exchanges if synchronization breaks. In this way, we prescribe Quicken over Mint in this classification, however, our testing has had a superior involvement with Personal Capital synchronization.
Cost
In the event that cost is your essential factor in picking, at that point, this examination is a simple one. Mint is allowed to utilize, and there are no concealed expenses. You may consider how Mint profits. There are a few different ways:
Mint offers "approaches to spare" by prescribing different monetary administrations from which they get a referral expense.
You'll additionally discover pennant promotions in different parts of the site, which give income.
You can agree to accept premium access shockingly report for a little expense.
Mint likewise offers the total money-related information to different suppliers. Things like: shopper spending, the normal Visa adjust, what number of retirement accounts a client may have, and so forth. The information is gathered secretly and does not refer back to any individual client. Therefore, Mint is much better than Quicken in terms of cost.
Security
Security plays a vital role for anybody utilizing an individual budgetary program since your whole monetary life could be uncovered.
In looking at Mint or Quicken regarding security, it's around a web-based administration versus privately introduced programming on your PC.
With customary Quicken programming, the majority of your data is put away ideal on your PC. Be that as it may, when utilizing the application's online highlights, Quicken utilizes the accompanying to shield your data:
Secure Socket Layer (SSL) innovation and encryption to make your data indiscernible as it ignores the web.

Firewall-secured servers.

Honesty checks to be sure messages have not been changed at all amongst the sender and beneficiary.

Clients can ensure their records with secure passwords.
Mint likewise is worried about the security of your own and puts away data. Key site safety efforts:
Mint won't let you get to your record until the point when you approve the gadget you're utilizing either by means of the email address you utilized when you joined or by an SMS instant message to your wireless.
You need to contact an ID sensor for iOS. This rapidly peruses your unique mark and opens your telephone, enabling you fast access to the application. We trust Quicken's nearby information stockpiling makes it unrivaled while thinking about security assurance. Therefore, we can finally say that Quicken provides better security.
Customer Service and Education
When you tap on the help catch on Mint's site, there is a rundown of basic inquiries and issues you can look through. In the event that you can't discover the solution to your inquiry, you can either email the group or hit the talk catch for online help.
Quicken provides very poor client service which makes many users disappointed. Ideally, the application's new proprietors will address the issues that such a large number of clients have whined about. They do offer free day in and day out specialized administration by means of telephone. Normally, you get the specialized help that is from India and perusing content to help with your issues.
Furthermore, with Quicken (and beforehand with Intuit) there would be numerous product redesigns of the item to settle different bugs that at times ought to have been settled before discharging the new form.
In view of the issues with the two items, we can't suggest either item as prevalent in client benefit. Hence, in terms of customer service and education, both fail in providing better client service.
Conclusion
Which is better Quicken vs Mint? I hope now you can answer this question but if still you have some doubt then let me help you. Well, according to the above discussions we would suggest you pick Quicken over Mint. The reason behind this is that Quicken has considerably more usefulness and can develop with you after some time. Be that as it may, for a few, maybe Mint is all you require.
On the off chance that you need an administration that is accessible online by means of an internet browser or application, Mint is a superior administration for that reason. It is seen that most of the users preferred Mint over Quicken because of the cost. Mint is less costly as compared to Quicken but in case of security and other services, Quicken is better than Mint.
I hope this guide will help you to understand both and take you to a better decision to select between Quicken vs Mint for your business. If you still want more discussion and seeking help regarding Quicken support, Just dial our toll-free number +1-844-405-0904 and talk to an expert now.