Whoever requires the proper business accounting tool, for sure will come across QuickBooks and FreshBooks. Both web-based accounting solutions are designed for small and medium businesses with lots of strong features and plans to choose from according to your business. Overall these two softwares are really effective platforms and user-friendly. In this article, we will discuss Freshbooks vs. QuickBooks to know which is best for your business. Go through the complete details of the article and let yourself decide which one suits the requirement of your business. For More Info. contact us toll-free : +1-844-405-0904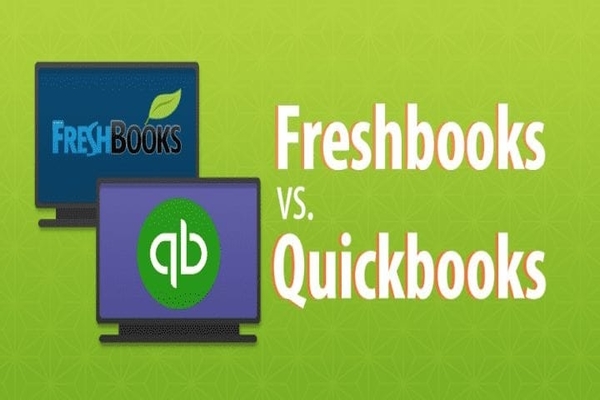 Basic Review on Freshbooks vs QuickBooks
QuickBooks and FreshBooks are web-based accounting and accounting mobile apps for IOS and Android, you can use their platform from anywhere that you have access to the internet while the difference comes in QuickBook that not more than 25 users can access the program. Both are giving multiple options.
The amount to be paid on a monthly subscription depends on the plan you purchase. Also, you get the opportunity to integrate with other accounting solutions for expanding your platform functionality.
Most people are going through a misunderstanding of considering FreshBooks and QuickBooks for the same purpose. Though QuickBooks is the best tool for all types of small and medium companies accounting that sell product and needs scalable, fully-fledged accounting software, a very good platform for all types of business owners especially those who need the more advanced accounting tools for tracking reconciliation, reporting, taxes, and inventory management.
While FreshBooks is best for service-based businesses with three plan options, especially for self-employed professionals like freelancers or independent contractors they need to keep track of expenses and avenues in simple reports with a focus on time tracking and invoicing.
Although the two are having a lot of the same features. But they don't work exactly the same way. To decide which one is most suited for your business, comparing is really helpful.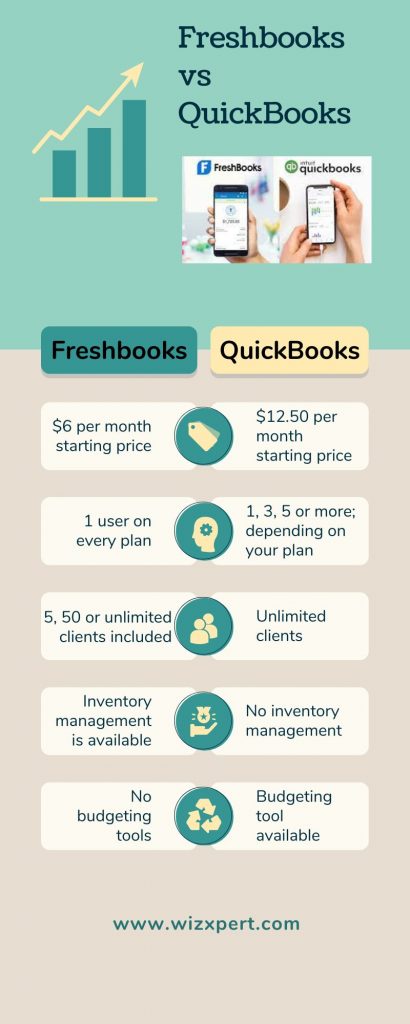 So let's examine Freshbooks vs QuickBooks on different Terminologies:
Timekeeping
FreshBooks offers built-in time tracking capabilities that are helpful for the project as well as case-based businesses that employees can track billable hours alongside other project expenses.QuickBooks offers the same and the additional add-on feature which is tracking payroll for part-time or full-time employees.
Invoicing
FreshBooks has a customizable invoice design and a click-to-pay button for creating online invoices. Invoices are taking data from timekeeping features if you make your hours billable. Also, it has followed up emails for overdue payments.
In contrast, QuickBooks is connecting to outside time tracking apps such as google calendar for tracking billable hours to include it in invoices.QuickBooks has lots of customization features to design invoices. Click to pay button for customers to pay directly from the invoice, along with reminders and recurring payments.
Expense tracking
QuickBooks is supporting debits and credits while keeping apprised of profit margin at every stage. FreshBooks focuses on invoicing and payment collection. Also, it offers some expense features like sale tax management, receipt tracking, and project time tracking.
Accounting
Keeping the track of accounting is easy on QuickBooks with supporting features like double-entry accounting to keep your sheets balanced and help to organize cash flow. But it's hard to learn using such features. While FreshBooks doesn't provide fully automated accounting but you can enter the data to fill balance sheets which is going to be time taking.
Inventory tracking
While FreshBooks doesn't have any inventory features, QuickBook's inventory features are tied to its accounting software. Which includes; entering payments made to suppliers, inventory on hand, and even making future orders based on the inventory output.
Integrations
Quickbooks possess more than 400 native integrations and payment software, CRM, e-Commerce, and much other software like online payments apps like Stripe and PayPal, as well as Bill Pay for QuickBooks, which allows you to pay bills from QuickBooks Online and ensure visibility and control over financial data and sales processes.
FreshBooks also boasted many integrations with more than 200 apps like Gusto for Payroll, Stripe for online payment acceptance, and Avalara Tax for easy tax management. Integrations with e-commerce, inventory, CRM, and time-tracking apps but it is targeting freelancers and small businesses. Also using Zapier is helping to get connected to more than 1500 apps. Both FreshBooks and QuickBooks Online offer very easy connections within their application to get connected with numerous apps in a variety of categories.
Reporting
Quickbooks reporting is including more than 50 standard reports in a variety of categories in regards to their product and related to accounting processes. Which are; accounts payable, accounts receivable, products and inventory, expenses and purchases, sales tax reporting, and employee reports. Though the list is very exciting many of the reports are working with manual entry and tag. To access any of these lists you need to have detailed records.
Freshbooks offers a total of 14 reviews, with restrained customization capability, even though if it is required you are able to export reports to Microsoft Excel for customization. reports are restrained to financial statements and management reviews. FreshBooks' focus is on profit margin and shows periodic input versus output. Freshbook's reports are more on payment collection and tax-related reports which are because itis works best as an invoicing and time tracking tool.
Let's check which platform has something better to offer
Support
FreshBooks users are getting full support by telephone and email during working hours with a toll-free number. And the supports are;
In-product help
In-product messaging
FAQs
Searchable knowledgebase
QuickBooks Online offers various support options for users, like;
Connect with a support agent by telephone
Connect with a support agent through email
Connect with a support agent through messaging
Featured articles
In-product help
Product training options
Searchable knowledgebase
User community
FreshBooks have better support compared with QuickBooks due to providing telephonic support for the users. Although QuickBooks is offering live support, it is suggested other resources be accessed first.
Ease of use
FreshBooks dashboard is offering a very convenient display to set up progress. The Menu is vertical to the left of the screen, but once choosing the category, a series of information and option will be on screens, such as a summary of all activities, recent activities, and various actions to be taken. With help options are available from any screen in FreshBooks. Also, data entry screens show easy look-up options to help and accelerate the data entry process.
On the other hand, QuickBooks Online has a very easy setup process, you can just go to the basics and add details as you start. QuickBooks Online has a user-friendly interface, and a vertical menu bar to the left of the screen offers easy access to all functions of the system. Data entry screens have solid look-up options in all the fields, Also the help option is accessible from any screen in the application.
Overall FreshBooks is offering a better platform while providing activities such as summaries and various task options in every category.
Pricing
Both the software pricing is quite similar but the main difference is pricing for FreshBooks is according to the number of billable customers while pricing for QuickBooks is the number of system users. Both are having similar features in their basic application while additional features come under more expensive plans.
FreshBooks (Pricing)
Lite: $15/month for up to five billable clients
Plus: $25/month for up to 50 billable clients
Premium: $50/month for up to 500 billable clients
Select: Custom pricing for more than 500 billable clients
QuickBooks Online(Pricing)
Simple Start: $12/month for 1 user
Essentials: $20/month for up to 3 users
Plus: $35/month for up to 5 users
Advanced: $75/month for up to 25 users
QuickBooks is costlier than FreshBooks because the initial pricing increases after three months but FreshBook's pricing is remaining the same per month.
FreshBooks vs QuickBooks Comparison
QuickBooks Online offers great customer data and vendor management capability which FreshBooks Doesn't have. For Customer Data, it is offering notes, billing and shipping address, payment, tax information, and language preference which is possible to be adjusted in each of the client accounts. It gives the option to attach documents to any of your client accounts like the statement, invoice, or any other correspondence.
Also for the vendors, you can track the same details, such as; account number, billing rates, tax I.D number, and billing rates with having the ability to track payments of any vendor and contractor for the end year.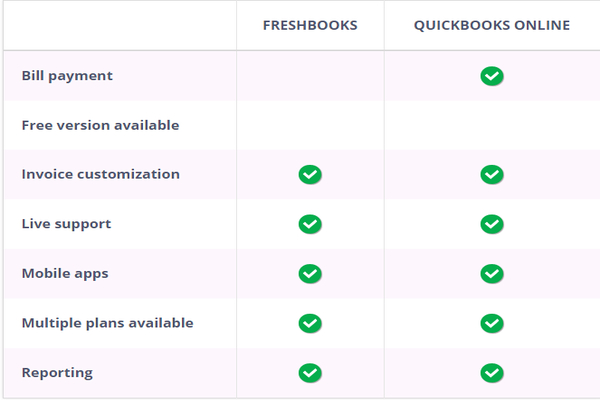 Though FreshBooks offers the same features as QuickBooks Online, But, QuickBooks is offering better customer, vendor management, contractor, and easier app connection.
Conclusion
While reviewing so many reports on Freshbooks vs QuickBooks, we reach the point that QuickBooks is eased the work for its customers. While FreshBooks has provided useful information for its client. But overall in our opinion, QuickBooks Online offers a much better variety of reports and customization options.