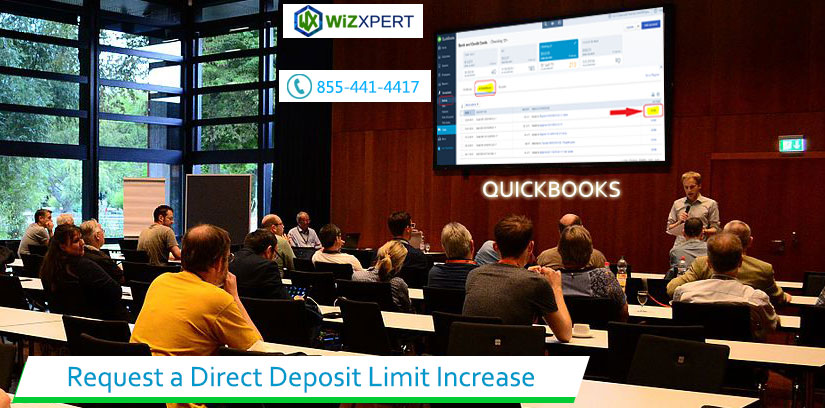 In today's article, we will talk about how you can request for direct deposit limit increase in your QuickBooks Account. And why people should request?
Security limits helps you to protect from corrupt Automated Clearing House (ACH) activities by covering the amount you send through direct deposit. Therefore, people wants to increase their direct deposit limit to QuickBooks Account.
NOTE: Sometimes, Intuit QuickBooks may ask you to submit a bank statement. That's because QuickBooks required to verify the average historical balance. This will help them in determining whether your account has sufficient balance for the Direct Deposit limit that you're requesting.
Direct Deposit Limit Increase
Direct deposit security limits protect you from fraud activities by capping the amount you send using these services. If you think that the total amount of your year-end payroll or bonus run will be more than your current direct deposit limit, you need to request a file to increase the deposit limit. When employers pay bonuses, they normally increased the limits only once or twice a year.
Read more: How to cancel direct deposit paycheck in Intuit Payroll?
How do I increase the Direct deposit limit?
You should keep in mind some following information before filing the request:
You should have an active payroll subscription with DD service.
Payroll service name (QuickBooks Online Payroll)
Federal tax ID
Company legal name
Primary Principal name and email address
Request name and email
Paycheck Date
Requested amount
Now, let's proceed step by step to increase direct deposit limit.
Enter a request, in Intuit Security limit increase
Click on Save.
Note : – Within two business hours Intuit will start reviewing your request.
You could be approved right away without paperwork depending on the amounts and paperwork needed, If signed forms are required, we do review updated cases each day.
There could be an additional risk, if any customer attempts to send a Direct Deposit which exceeds the allowed limits. So, you need additional information to decide whether you should approve a larger amount or not.
What to do if request to increase Direct Deposit limit denied?
There are a few things that a business owner can do if your request to increase direct deposit limit is denied like many company apply for increasing the limit once or twice a year when they are pay bonuses to their employees. You can pay these bonuses to your employees via check instead of Direct Deposit so you don't exceed the limit.
Direct Deposit Limit Frequently Asked Questions
Now, we will discuss some more queries which usually come in users mind on this topic.
Why did I receive an error message of the Direct Deposit limit?
You can modify your payroll transmission so you are under the limit if the total of your company's Direct Deposit exceeds the maximum allowed limit.
While your Direct Deposits exceeded the maximum allowed and if you have attempted to send payroll more than four times your account has been placed on DD Limit Hold.
I have sufficient funds in my account. Why didn't my payroll go through?
Is there any other option if I don't want to raise my Direct Deposit limits or the limit increase is denied?
Most of the companies exceed the limits only once or twice a year when they pay bonuses. If you don't want to increase the limit of your direct deposit, you can pay large bonuses and commissions by using separate checks instead of using direct deposit. You can also try breaking up the direct deposit into separate check dates. To pay with separate checks, do follow some simple steps:
Step 1. On the Home page, select the Unscheduled or Bonus checks option.
Step 2. Under the Pay Method option, click on direct deposit.
Step 3. Change the Selection to check.
What is the Request for Change in Security Limits Form, and how do we know the limits?
This form is used to request a file for new Deposit limits including the instructions for estimating the limit. Please keep in mind that this is an estimation for limit; they don't have to be exact.
Limits of any company determine the total amount of Deposit transactions your company may process each day.
Read more: How to set up, edit and remove direct deposit for employees?
The Bottom Line
In this article, we have discussed how you can request for the Direct Deposit limit increase in QuickBooks. In addition to this, we have also mentioned the information that will be required for the same process. We have also discussed what to do if your request for increasing the Direct Deposit limit is denied for some reason.
If you still facing any error messages related to the QuickBooks Direct Deposit limit increase then we highly recommend you contact a professional Intuit certified QuickBooks ProAdvisor that will assist you in the entire procedure. To know more about the accounting and bookkeeping service we offer to call us at our 24/7 toll-free customer support number +1-855-441-4417.