This article is all about the comparison of three accounting solutions, QuickBooks, Tally, and Zoho. If you want to know, which version is better then, see the comparison, QuickBooks Vs Tally Vs Zoho. In the meantime, you can dial our toll-free number +1-844-405-0904 to connect with our experts for further assistance.
Features Comparison Between QuickBooks, Tally, & Zoho
Here we have compared the features of QuickBooks, Tally, and Zoho in detail. Read the following and find, which one is better in feature.
Features of QuickBooks
QuickBooks business accounting software helps in generating reports, preparing taxes, and invoicing. It is useful in tracking the overall business performances and financial health by tracking income and expenses.
Invoicing: You can create sales receipts, custom invoices, and estimates. It makes it easier to share GST-compliant invoices and sales receipts to clients via email.
Cash Flow Management: You get better cash flow management with the online banking integration feature.
Cloud Accounting: it allows users to access and manage their accounts and business from anywhere and anytime.
Time Tracking: you can track billable hours for your clients and also use the data to generate invoices.
Accounting Reports: you can generate an accurate accounting report which helps in determining the profit and loss of the business. With the help of customized reports, you can identify trends in your business and efficiently track your accounts receivable and accounts payable.
Multiple users: Multiple users can access your books for better workplace collaboration.
QuickBooks Accounting Software Key Modules:
Cloud-based QuickBooks accounting software is best for managing:
Time tracking- Track client's and employee's billable hours & add them to invoices automatically.
Online banking- Integration with online banking for managing transactions and statements.
Managing cashflows- Easy to schedule recurring payments for saving time.
Profit & Loss Report– You can track your business income and expenses along with analyzing the overall bottom line.
Dashboard– Dashboard for customizable accounting and business reports.
Features of Zoho
Zoho Books assists at every stage from managing your accounting, reconciling your bank statements to handling bills and invoicing. It also helps in managing GST compliances and overseeing project deliverables.
Inventory: it helps in managing your inventory by automatically updating stock levels whenever a sale or purchase is made.
Invoicing: you can create professional invoices and set up automatic reminders.
Contact Management: it helps in organizing all your customers and vendors in one central place.
Customization: you can be in touch with your customer with personalized communication. It helps in defining the roles and responsibilities of your staff by giving them controlled access to the financial data.
Banking: you can easily collate all of your bank transactions, categorize and reconcile your accounts.
Payables: Zoho books helps you to maintain your income and expenses by storing all records in a single location. You can easily scan receipts and create reports with the help of your phone. 
GST Ready: you can find out your GST liability, file returns, and make payments through a single platform.
Zoho Books Key Modules
Zoho Books is mostly used for keeping a business GST compliant which also lets you:
Filing returns- The accounting software lets you file returns and calculate easily GST liability.
Record GSTINs for all contacts- Associate SAC/HSN codes with all your goods/services to classify them and record their GSTINs.
Reconciling transactions- Single click button for reconciling all transactions.
Generating e-way bills- Create instant e-way bills with Zoho Books accounting software.
Invoices & billing- Display all information mentioned in bills and invoices like the GST amount, place of supply, etc.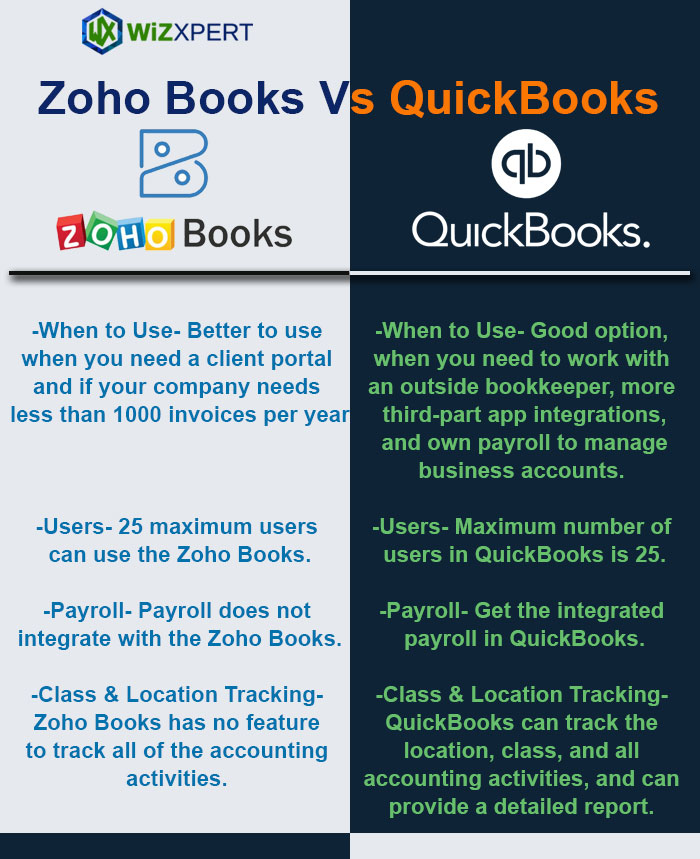 Features of Tally
Tally accounting software simplifies processes like sales and inventory, and accounting and finance. It also helps in managing payroll costing and point of sale activities.
Accounting Management: Tally keeps you on top of the tax liabilities and manages your payables and receivables and financial data accurately.
Manufacturing: Tally has been tailored for the manufacturing industry to streamline its manufacturing process.
Sales Management: You can efficiently manage your purchases ensuring good relations with your vendors and better supply chain management.
Inventory Management: you can easily track your orders, check your current inventory level, and know about the stock requirement.
Tax Compliance: Tally simplifies all the tax compliances along with the invoicing, generating error-free returns, printing, and reconciling your returns.
Tally Accounting Software Key Modules:
Cash flow & Credit Management: You can have a detailed view of your cash flow.
Go to Feature: Helps discover how Tally Prime can offer insightful results just the way you want.
Insightful Business Reports: It offers 400 plus business reports with insightful analytics.
Multi-Task Capabilities: Perform multiple accounting functions without switching between the instances of Tally Prime.
GST & Taxation: Helps generate e-Invoice instantly and allows printing invoices in multiple formats.
Go to Feature: Helps discover how Tally Prime can offer insightful results just the way you want.
Zoho, Tally & QuickBooks- Software Comparison
Go through the table below, to compare all the three software on the basis of business type, deployment, language support subscription, free trial, and compatible platform.
| | | | |
| --- | --- | --- | --- |
| Software | Zoho | Tally | QuickBooks |
| Business Type | SMBs, Freelancers & Big Enterprises | Small businesses to big enterprises | SMBs and big enterprises |
| Deployment | Cloud-Based | On-premise & Cloud-based | Cloud-Based & On-Premise |
| Language Support | Multi foreign languages | Multi Indian languages support | Multi-language support |
| Subscription | Both monthly and yearly plans are available | Both monthly & one-time payment plans | Both monthly & one-time payment plans |
| Free Trial | 14-day free trial | 7-day free trial | 30-days free trial |
| Compatible Platforms | Windows, Mac, Android, and iOS | Windows, Mac, Android & iOS | Windows, Mac, Android & iOS |
Comparison of software (QuickBooks, Tally, & Zoho)
The above was a comparison of Tally, Zoho, and QuickBooks to find out the most suitable software as per your requirement and budget. QuickBooks helps with report generation, invoicing, and tax preparation and Tally offers accounting, inventory, sales, and purchase management while Zoho has invoicing, payables, banking, and customization of even unique business workflows. If you need further assistance you can directly talk to our ProAdvisors at +1-844-405-0904.