Wanna learn how to fix QuickBooks error 106, 168, or 324 i.e. online banking error? In this article, we have provided all the details to fix the error. Read the article to get different solutions to the error and understand the causes of error. Here we have provided the solution along with images to cater you a better understanding. Still, having an issue contact our QuickBooks ProAdvisor toll-free: +1-844-405-0904
Because of QuickBooks Error 106, 168, or 324, QuickBooks Online is not able to find the account when logging into your bank's site. Or if the account has been closed at the bank and therefore no longer shows up on the website. Follow the below-given solution or tips to fix these QuickBooks Online Banking error and reconnect bank account.
Methods to fix QuickBooks Online Banking Error
You can encounter these errors while uploading the bank transactions into QuickBooks Online. Below we have mentioned some methods that can help you in solving the QBO banking errors.
Solution 1: Manually update your Bank account
Open QBO and then from the left side navigational panel, click on the Banking option.
Unselect those accounts that you don't want to update right now. Blue sign means that the account is selected and a grey sign means that the account is not selected. Once you select the required accounts, click on the Update button.
Then, QuickBooks will ask you to enter your Multi-Factor Authentication (MFA) Number.
You will receive a notification as soon as the update is over.
You can check whether this method work or not by seeing the date of the last update and the total number of transactions. If they are changed then it means that this method work otherwise you need to use the next method.
Things you need to remember while Manual Update.
There are some bank and credit card companies that post transactions for download only after a day or the next morning. So, you should wait for one day and then try to update it manually.
Sometimes, you'll be able to see the transactions on the bank website but you can't download it until the bank post it.
If there are any transactions are missing then we recommend you to wait at least 24 hours, in case your bank has not to make it available for download yet.
Solution 2: Check whether you can log in to the Bank's website through the URL provided by the Bank for online banking or not
You need to follow every step mentioned below carefully if you want to check that you can connect to the bank through the URL which is used by the QBO for online banking.
Open QuickBooks and click on the Banking option from the left side navigational panel.
Then, select the Add Account option from the top-right corner of the screen.
Here you need to find the name of the financial institution or the Bank that you are using.
Choose your bank from the results.
After that, you need to click on the Bank's URL from the top of the window.
Now, a new window for the bank website will open. Here you need to check whether all the functions are properly working or not.
To verify the website you can check account summary, account details, and account history. If you are able to see all these things without any error then the Bank website URL is working fine.
QuickBooks only supports the connection to the bank account only if you are able to log in to your bank account through this link. Many financial institutions have multiple logins to different types of accounts, but they only release one website for the connection to QuickBooks Online.
Solution 3: Check if there are any changes in security features made by the Bank
If you are now able to log in to the bank account then this step is to check for any messages, notifications, or alerts from the bank regarding that there are some issues which are causing the QBO Banking errors.
The message from the bank could be like, you need to update the bank login password due to security reasons or that bank has introduced a new security feature that require some of your actions before proceeding further.
Solution 4: Wait for 24 hours and try again
If you've tried all the above-mentioned steps but you are still unable to download bank transactions or QuickBooks is not able to connect to your bank account then it surely means that all of this is happening due to some issues from the bank side.
We recommend you to wait at least a day and then try again. This will grant the bank time to fix the errors or issues with their server.
If you encounter any specific error code like QuickBooks Banking Error code 106, 168, or 324 then you can follow the steps below to fix those errors.
Fix QuickBooks Online Banking Error Code 106, 168 or 324
You can now resolve Error 324 by clicking on the Reconnect my account link. That is displayed after the error message. Following the steps to select your updated account with the financial institution.
If you don't see the Reconnect my account link. Or any indications of a problem or maintenance on your bank or credit card's website. You can try to manually update your account within QuickBooks Online. Click the Update button. Try running three manual updates during non-peak hours.

Check that you can log in to your bank's website through the URL. The bank has provided us with online banking.
* Note for only U.S. customers about Wells Fargo Bank: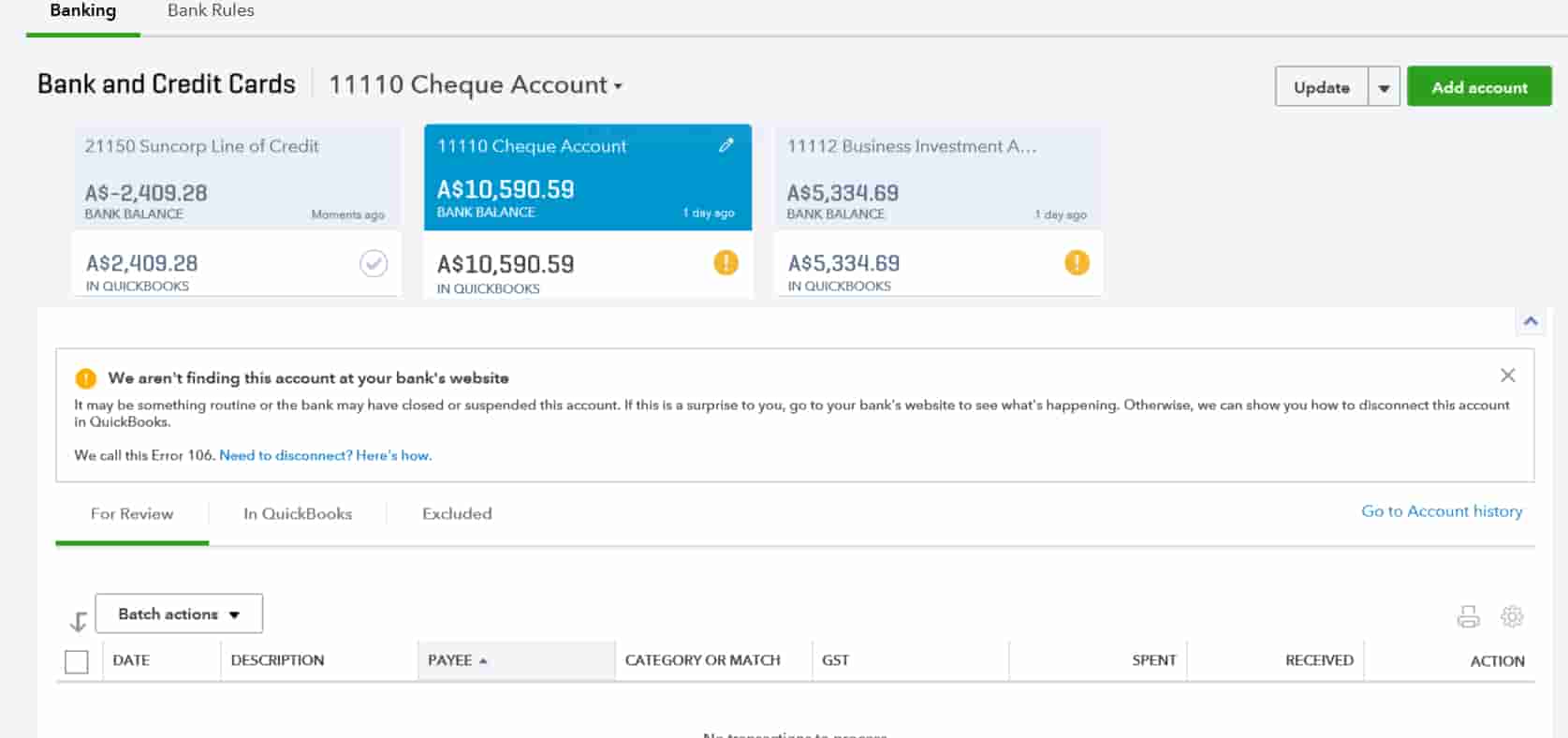 When attempting to set up the connection to your Wells Fargo business or personal account (if you have both). This error is caused by the way Wells Fargo presents the accounts to us. To see the lost account and be able to connect to it with QB Online. You'll need to follow these steps:
Sign in to your account on the Wells Fargo site.

On the first screen display under Account Summary, select your business account by using the drop-down arrow, then click Go.
Choose the option Set as Default View.

Log in to QuickBooks Online and set up the connection in online banking. There is no way to show both the business and personal accounts as the default view at the same time. Therefore, you'll have to toggle these on their site. Each time you'd like to upgrade your accounts in QuickBooks Online for the non-default account.
Have any problems or queries? Contact our team of QuickBooks ProAdvisors. Our Experts are always ready to help QuickBooks users so feel free and get an immediate solution for your issues. You can call us anytime on our 24/7 toll-free QuickBooks Support number +1-844-405-0904.