Do you want your employees to view their paychecks and related tax information from any computer or mobile device than you can start using ViewMyPaycheck – an online portal offered by the Intuit that allow you to do so.
Once QuickBooks ViewMyPaycheck is enabled then QuickBooks will automatically send the payroll information to the Intuit.
Employees can use ViewMyPaycheck login(paychecks.intuit.com) to view their pay stubs and current year W-2 Forms.
In this post, we'll show how you can turn on and use ViewMyPaycheck service to send employees their paychecks easily. Meanwhile, if you are facing a problem login QuickBooks Online, dial our toll-free number +1-855-441-4417.
3 Steps to Enable ViewMyPaycheck
Turn on QuickBooks ViewMyPaycheck Service
For using this service first you need to enable it from Payroll Cloud Services. This feature is available in all QuickBooks Online Payroll Service.
Before starting, we recommend you to update QuickBooks and Payroll Services to the latest release for the flawless experience.
Select the 'Employees' from the menu bar at the top and then click on the Manage Payroll Cloud Services.
Tick on the box in front of ViewMyPaycheck.
In the next window create a payroll PIN and then re-enter it to confirm the PIN. This PIN will be asked every time when you send pay stubs to the employees.
NOTE: If you are already a payroll service user then you'll be asked to enter the existing PIN.
Send Payroll information to Intuit
You need to create a paycheck as usual.
In the confirmation window click on the 'Send to Intuit' option write next to the Print paychecks.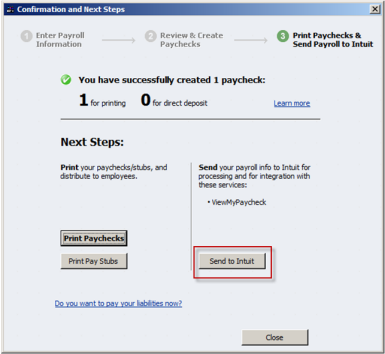 In the next window click on send and enter payroll service PIN when prompted.
NOTE: You can also do this step later by going to the Employees menu and then select 'Send to ViewMyPayCheck'.
Send ViewMyPaycheck(paychecks.intuit.com) link to the employees
After sending the paychecks information to Intuit. Now you need to send the website address (paychecks.intuit.login) to the employees.
Employees who already have Intuit account ID and password can directly sign in and view their paychecks.
But the employees who don't have an Intuit account need to sign up. To create an Intuit account follow the below steps.
Visit paychecks.intuit.com and click on the sign-up.
Enter the email address. (If the email is already registered then Intuit will send you a link on this Email ID. You can use this link for sign-in.)
Now create a password that you'll be using for login the site.
You need to pick a security question and an answer. In case you forget your password in the future.
Click on sign-up.
Now enter your SSN(Social Security Number) and Net Pay(amount after-tax deduction) then finally click on All done.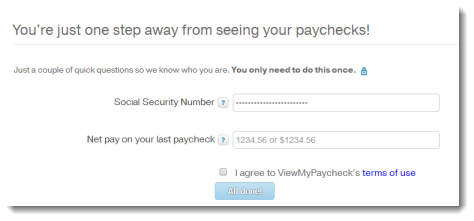 Send W-2 Forms to Employees using ViewMyPaycheck
Employers can also share W-2 Forms with the employees using this website.
Create a W-2 Form of an employee as usual and after examine it. Submit the form.
In the next Print/E-file Form window tick in the box 'Provide employees with secure online access to their W-2 Forms on Intuit free ViewMyPaycheck site'.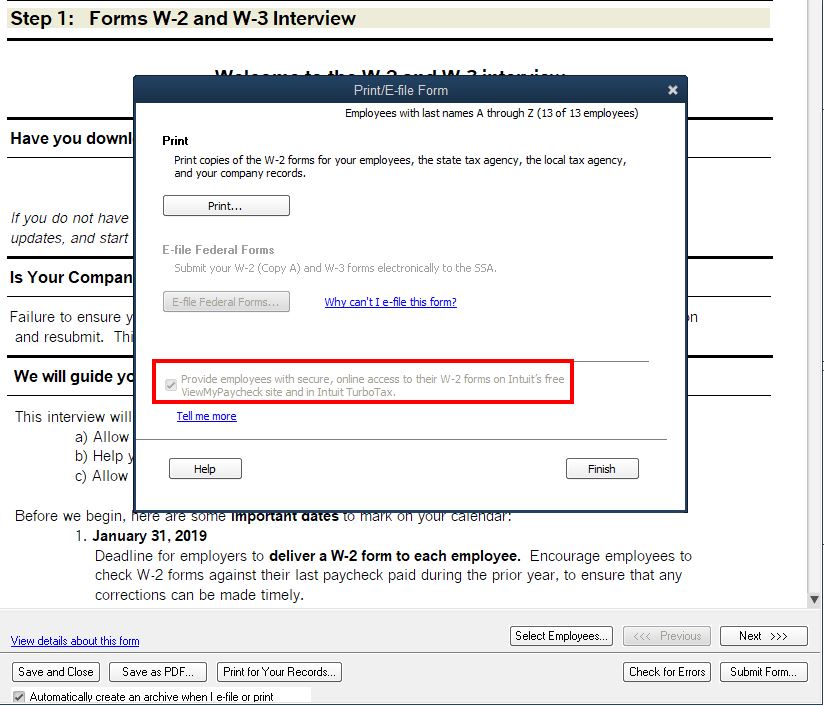 After that QuickBooks will automatically send emails to the employees and notify them about the availability of W-2 Forms.
Frequently Asked Questions
Is ViewMyPaycheck free to use?
Intuit ViewMyPaycheck is work with QuickBooks 2009 or later versions. This service is free to all existing QuickBooks Payroll service users. 
Is there any app for ViewMyPaycheck?
You can access their website using a browser from a mobile phone or a computer system. Intuit has not developed any native mobile app yet.
---
ViewMyPaycheck will help you with lots of work but only if you know how to optimize all the features. You can easily distribute pay stubs and W-2 forms to the employees easily and they can print them whenever they want using the website. So if you want to know about the features of using ViewMyPaycheck and how to use them effectively or ViewMyPaycheck is not working then you can contact our team of QuickBooks ProAdvisor through a 24/7 toll-free number +1-855-441-4417. Our team consists of certified and experienced technicians who can solve your any query instantly.