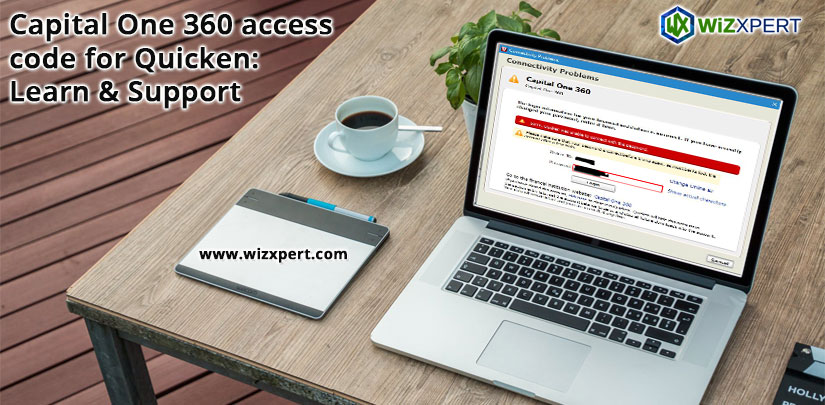 Worried about your essential Data protection and Seeking the complete solution of your Data Protection or security?
Don't worry, Capital One 360 access is the one-stop solution for your Data Security. You can do capital one 360 login by visiting its official website (https://verified.capitalone.com/auth/signin).
In this article, we will explain to you how to login, sign in, reauthorize, generate, link & Connect Capital One 360 with Quicken & Mint. Let's start from very Basic "What is Capital One 360 Access Code?" and then will proceed further and clear all your aspects related to Capital One 360 Access Code.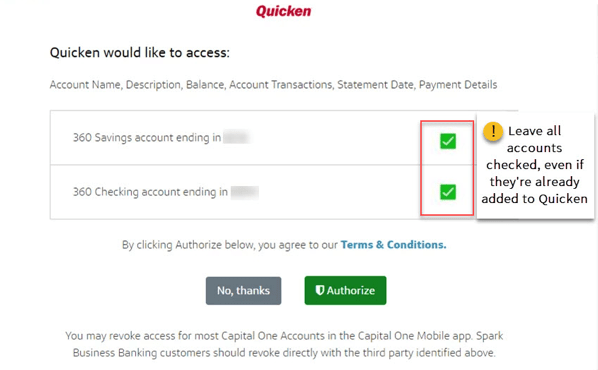 What do you mean by Capital One 360 Access Code?
An access code is a special security code that connects your Capital One 360 account to Mint. This is a unique code provided to you for data security reasons, no one other than you & your bank can access this code. It simply helps to protect your information more securely.
Guidance for existing Capital One customer
At first, you need to log in to the Capital One website.

Vist >> https://verified.capitalone.com/auth/signin

Next click "My Info".Capital One 360

Now choose "Preferences".

Then, choose the "Access Code" option to trigger your personal access code.
Guidance for the fresh users of Capital One 360 website
First,

you need to log into the Capital One website.

Next, click into any of your accounts.

Now, click on "Account Services and Setting" and you'll get another screen.

After that, under "Account Management", click the "Get Access Code" option to trigger your personal access code.

Once you are done with this, just log into Mint and update the latest Personal Access Code.
As of now, capital one changing to a new method of providing data to applications like Quicken. And as you move further, you'll use a Capital One-hosted sign in form to authorize downloads.
Well, the overall process for adding accounts and downloading is the same, but the screen you use to sign in to Capital One will look different.
Steps to Connect to Quicken capital one 360 accounts
In order to connect your Capital One 360 accounts with Quicken then you have to follow these process:
At first, you need to open the capital one website from your browser and then log in to your account.

Next, you need to select the view account option from your capital one 360 accounts.

Then, select the account service & setting option.

After that select get the access code and wait for the new page in your browser.

Next, you'll see the access code tab and you put your password on the filling box for connecting with the Quicken.

And then, you can see your access code and copy this code.

Now, open the Quicken website and log in. You need to open my account option and after that paste this access code option on the access code box.

Finally, fill all the options correctly and save it for connecting to capital one 360 accounts in Quicken.
Although with this new connection method you'll sign into authorized Capital One accounts directly from Quicken, rather than storing your passwords in the Quicken Password Vault or Mac Keychain.
For security reasons, Capital One may periodically request you to re-authorize your accounts in Quicken by signing in again. May be this process happens every 90 days or so.
What to do when you're multiple Capital One accounts.
Capital One is changing its connection types with all of its financial institutions, and this means you'll need to authorize your contacts for each Capital One financial institution individually.
Let's understand with an example, suppose you have a checking account with Capital One 360, and a credit card account with Capital One- Credit Cards then you have to simply go through the process twice, for each of the financial institutions. No, need to worry about that because Quicken will prompt you if you need to go through the process more than once.
If you want to go through the migration process more than once then it is important that you don't uncheck any accounts listed on the authorization screen, unless you are also not allowed to see the account at all in Quicken.
And, if you uncheck accounts during the process then this will revoke your authorization, and prevent the accounts from updating.
Point to remember:

When you have multiple accounts with just one Capital One financial institution, you'll only need to go through the process once.
Capital One 360 check deposit availability or when can you withdraw your check Deposit
There might be a question in your mind that when will my deposit be available? Right, Let's discuss the check deposit availability.
As most deposits into 360 Savings, Money Market, and Kids Savings Accounts are subject to a 4 business day hold before they can be withdrawn.
In general, deposits into Essential Checking Savings, 360 Checking, Total Control Checking, Money, and Confidence Savings Accounts are available the next business day.
You'll find Electronic deposits that are automatically initiated outside the bank such as Direct Deposit or Social Security benefits are generally available immediately. And Cash deposited via one of our deposit-taking ATMs and transfers between Capital One 360 and Capital One Bank accounts are also available immediately.
Frequently Asked Questions
Is Capital One is similar to the Personal Finance Access Code?
No, the Access Code is a code that is generated by Capital One 360. It allows you to sign in to personal financial management tools. And, the access code is gradually being replaced by this new Capital One experience.
What does Capital One mean for me?
The new Capital One experience will be added to Quicken for Windows and Quicken for Mac. And when you update your accounts in Quicken, you'll be prompted to authorize your Capital One accounts. Just enter your Capital One username and password then check the box next to each of your accounts, and then you need to authorize the access. Ensure that all of your accounts are checked, even if they are already added to Quicken.
Conclusion
From our end, we tried our level best to convey all relevant Capital One 360 access code information to you. We hope, you love to read this article, and pretty sure this information will help you to understand the concept of Capital One. But if you have any queries and doubts in your mind please feel free to call us on +1-855-441-4417or directly connect to our Quicken Support.