Converting Payroll from QuickBooks Desktop to QuickBooks Online
Last Updated on: August 2nd, 2017
Posted by:

admin

Category:

QuickBooks Online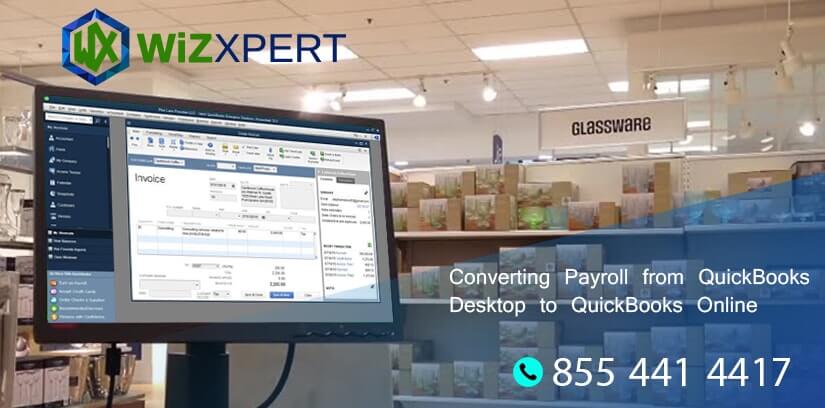 An Overview
Hey there, today we are going to discuss the process involved in converting Payroll from QuickBooks Desktop to the Online version. Meanwhile, you need any additional support for QuickBooks, our customer support team is always available to assist you.
You will need below details to set up your desktop or QuickBooks Online Payroll account. You'll find the details from your previous Payroll provider, from an accountant or from federal and state agencies.
Company Information
→ Company Bank account: For electronic tax payments or direct deposit.
Compensation and Benefits
Employee benefits types- Like hourly wages, bonuses, salaries, commissions, and tips.
Employee compensation types- For eg. health and dental insurance, retirement plan, sick leave or Flexible Spending Account(FSA).
Other additions and deductions- For eg. cash advances, mileage and travel reimbursements, wage garnishments.
Employees
For each employee complete Form W-4-
(Note: If this selection isn't offered then enter "single" and "0" allowances, you'll be able to modify this later.)
Pay Rate- Hourly, Salary, commission etc.
Deductions from Paychecks- Contributions of an employee to health insurance, retirement plans or child support.
Pay schedule- Weekly, bi-weekly, semi-monthly and monthly.
Sick or Vacation hours policy and balance
Hire and termination dates.
Direct Deposit
Employee's bank account and routing numbers for direct deposits to their accounts.( May Be additional fee required, its depend on your product).
Tax Information
Federal Employer Identification Number (FEIN) and state agency ID numbers- You will need to contact state agencies or IRS to file and Pay taxes.
Filing requirement and deposit schedule for payroll taxes
Electronic Federal Tax Payment System (EFTPS) enrollment- It is necessary to submit federal tax deposit payments electronically.
Other tax details- for eg. state assessment, surcharge, Admin or Traning tax rates.
6  Previous Payrolls.
For this present quarter- Payroll info from every payroll check.
For each previous quarter of current year- Total company payroll detail
For each employee year to date totals-  Synopsis by employee
 Liability detail
For the present quarter- Copies of all payroll liability checks
For every previous quarter of this year
Getting started with Payroll or Setup Payroll
QuickBooks Desktop Payroll  Basic
Activate QuickBooks Desktop Payroll
Setup Wizard by starting Payroll.
Follow the Payroll Setup Wizard.
QuickBooks Desktop Payroll Help
→ Start Payroll Setup Wizard.
Now Follow the Payroll Setup Wizard.
QuickBooks Online Payroll
Sign Up through intuit website
Do Setup Process
→ Select Employees
→ Click on Get set up to start the setup process.
→ Enter in company and Employee information and learn setup process.
QuickBooks Online Payroll Full Service
Sign up
Next, Setup Process
→ Select Employees
→ Click Get started with Payroll to start the setup process.
→ Enter in Company, employee and tax information.
You will see a run payroll button after complete, contact QuickBooks Support team if that button is not available.
Intuit Online Payroll
Sign up- Contact QuickBooks Customer
Within 2- 3 days a payroll setup expert will contact you to complete the setup process.
For further assistance contact QuickBooks Online Support Phone Number 1(855)441-4417. Ask your QuickBooks issues to our customer executive and get satisfied answer or solution.
For more information, View this video