8 Expert Tips for Hiring the Best Employees
Last Updated on: January 16th, 2018
Posted by:

admin

Category:

Knowledge Base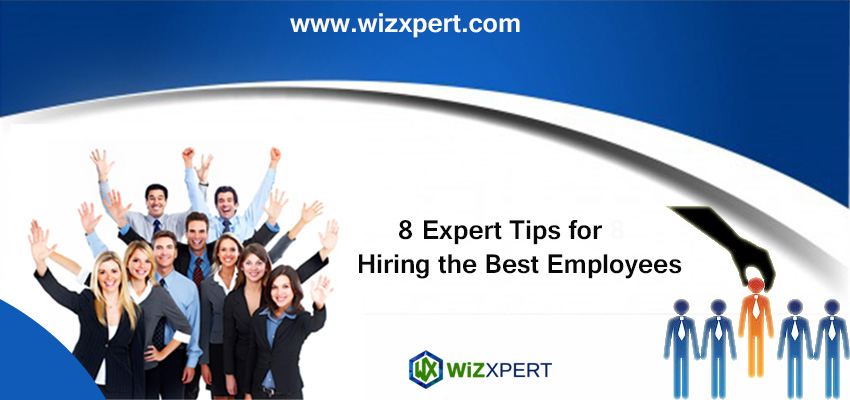 Hiring the right candidate for your organization is a challenging process.hiring the wrong employee is costly ,expensive to your company and time consuming.
On the other hand if you hiring the right candidate a successful employment relationship, and a positive impact on your total work environment.
Employees are truly the backbone of any successful company Whenever we have an option of hiring process to ensure we hire the best empolyees for the organzation
Here is the top 8 Expert Tips for Hiring the Best Employees
Selecting the right people for your organization, even if it's a startup is crucial to help grow the business. People have asked questions about how to improve their hiring process. This blog is just for them. It will teach you 8 important tips for hiring the best employees.
Although the benefit of hiring the best people can't minimize for several businesses, there may be many challenges for startups, including tight resources, confusion and the lack of awareness about your company. Here are some of the tips for hiring the best or right people for your organization.
Read also: 6 Reasons Why Most Startups Fail

1. Hire for optimism and attitude:
You should always hire a person for attitude. This is important as you can teach him excel spreadsheet but you cannot teach skills.
In startup businesses, things can go wrong but the best thing you can have is optimistic and positive people. They often get a solution on the other hands. Negative people always waste other's time by focusing on setbacks.
So if a person is getting lack of personnel skill but having winning attitude then also he can drive company successfully.
2. Let your network do all the work:
One should Ad for job opening after setup network of colleagues and associates. The references from a current employee who knows the standard, expectation and working environment of office are worth their weight in gold.
3. Use LinkedIn to connect talent with an opportunity:
Small startup to big fortune 500 company Linkedin has played trusted placing a tool for an employee of all shape and size as it provides a better fit. " Because of our network connectivity, you can find someone who really fits with your goals and works ethos."
4. Consider whether you need an employee or an independent contractor:
Finding of Right fit avoids "Employee altogether". Independent contractors could play an important role in growing a company. In 2008 according to Taco recession gave rise to increased use of independent contractors. Professional can save as much as 30 percent on a payroll as their expert in their fields.
5. Hold an "intention intervention":
Today experts are interested in knowing the duration of an applicant. It means whether applicant truly passionate about given opportunity, or is this an in-between job. To ensure good applicant small-business owners must understand each candidate's personal or professional intentions.
6. Emphasize culture
Culture is an important part of any company whether it is large or small, and I find it is especially important for startups. A startup is ordinary the foundation on which it will be built. Your hires are important to this early stage, and can usually make or break a company.
One easy way to assure you make the right hires is to have a good knowledge of your company's culture — that is, of your company's perception and working environment. As an executive, having that fair idea of your company's culture should help you frame a team that's in-line with your vision.
7. Get social
A wonderful recruiting strategy is a good marketing strategy. The main part of it is getting your company name out there and creating clarity for yourself.  Social media for recruiting is more trendy than ever: 92 percent of companies use platforms such as Twitter, LinkedIn and Facebook for recruitment.
8. Play an active role
The CEO of a tech startup wears a plenty of hats. Certainly, this may be true of any startup employee. We prefer for an active role in our hiring process, which includes interviewing all candidates. It helps managers understand what the company needs as long as the culture is concerned.
CONCLUSION
You might be desirous to select the first person who is "good enough" for the job. That would be a fault. In most of other cases, here too tolerance pays large dividends. Although if it means you struggle for a while without suitable employees, wait until the right person walks in.
Looking a way to find a QuickBooks ProAdvisor? Dial our 24/7 helpline 1(855) 441-4417 to talk with a QuickBooks customer service team. We may help you with tax planning, creating financial annual, monthly report, software setup, bookkeeping, accounting etc.
More to read: