How to use Automated Password Reset Tool for QuickBooks Desktop
Last Updated on: August 27th, 2018
Posted by:

admin

Category:

QuickBooks Desktop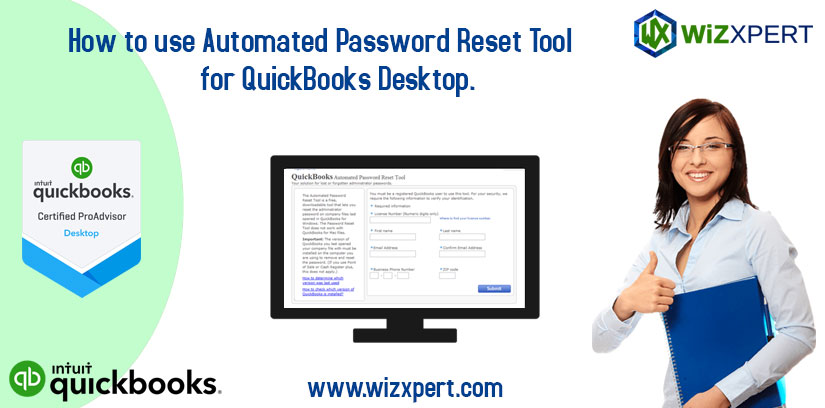 QuickBooks is a fantastic accounting software and any problem related with this software, you can easily solve. In this article, we will talk about the Automated Password Reset Tool for QuickBooks Desktop. By using this reset tool you can reset your lost or forgotten password to access your QuickBooks Company File. Automated Password Reset Tool designed as a "Self Help" tool for users
Automated Password Reset Tool for QuickBooks Desktop
Automated Password Reset Tool for QuickBooks Desktop is used to reset QuickBooks Admin Password. This is helpful in the case you have lost the password or forgotten it.
15 digit License number
Contact name (full name)
Phone number
Email address (same authorized contact)
Postcode
IMPORTANT: Your license number, e-mail address, telephone number and postcode will be validated against your company Registration record in our database. If any of the parameters do not match the information we have on file for your company when you registered your product, then the request will fail.
How to use the Automated Password Reset Tool:
Firstly, you select the tool based on the QuickBooks Version you are using.

US version of QuickBooks Desktop.
UK version of QuickBooks Desktop.
The Canadian version of QuickBooks Desktop.
It is used to reset the QuickBooks Admin Password that is lost or forgotten. So you can reset and change the old password to a new one with the help of Automated Password Reset Tool.
⇒ STEP 1: Identify the version of QuickBooks Desktop. When you last opened your company file is installed on the computer you are using to reset the password.
How to determine which version was last used:
Find the product version and release numbers after that choose the product from the list and learn how to check the version and release information and follow some instructions.
QuickBooks Statement Writer: In QuickBooks, choose Reports and QuickBooks Statement Writer.
After the program opens, choose Help, Then select About QuickBooks Statement Writers. Version information found in the About Window.
Merchant services: QuickBooks used the Merchant Services so there is no version or release.
Point Of Sale: Choose Help → Product Information. There is a Version or Release Information.
QuickBooks Basic Or Enhanced Payroll: Select Employees → Payroll Centers.
Click Payroll Tab
QuickBooks For Mac: Select Help → Product Information.
QuickBooks Desktop: Press F2 to open the Product Information Window.
IMPORTANT: You must have .Net Framework 4.5 installed to run the Password Reset Tool.
⇒ STEP 2: Select the QuickBooks desktop version you last update to open your Quickbooks company file.
From the QuickBooks version, select your version of QuickBooks Desktop.
Fill in the QuickBooks license number and business info used when registering QuickBooks, then click Submit.
After that accept the license agreement and click the Download button.
On the next screen, click the Download Now link.
Important: Make sure if it asks you to Run or Save and save it to your Desktop.
Enter the token number you received via email in the Token Number field.
Then select your QuickBooks version in the QuickBooks Products drop-down menu.
Click Browse for Company File and select the company file that you want to reset the password.
NOTE: If you are resetting the password for an Accountant' s Copy working file such as .QBA. After that you will need to type *.* in the file name box and press Enter. This will permit you to see and choose .QBA files.
Enter your new password in the New Password and Confirm Password fields.
Then click Reset Password.
I hope this article was helpful to you.

If you are looking for further QuickBooks support or talk with a proadvisor, feel free to call our helpline 1-855-441-4417.
Read other articles:
How to resolve network issues with QuickBooks File Doctor test results.
QuickBooks File Doctor: Repair your company damaged file or network