4 Secret Tips to Speed Up QuickBooks Performance
Last Updated on: August 26th, 2017
Posted by:

admin

Category:

Quickbooks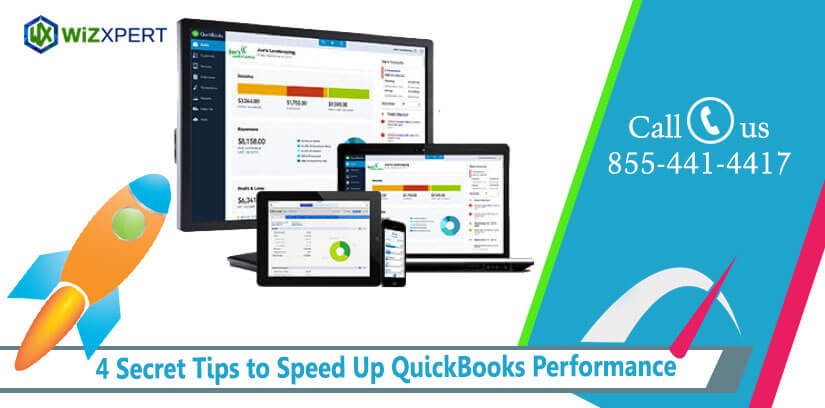 How to Speed Up QuickBooks Performance
QuickBooks is most useful accounting software in the USA. It helps in managing accounting operations like- scheduling payments, inventory management, creating payrolls,  monitoring of shipping processes, pending bills reminder and all other business related operations handled by QB very perfectly.
When you start to use QuickBooks, it runs perfectly. But when you try to update your QB to a newer version, then may be it starts running slow or takes more time to open. You can also unable to perform any kind of company file task on your QuickBooks.
Read also: QuickBooks Run Slowly in Multi-User Mode
If you are thinking about how to speed up your QuickBooks performance and what are the ways to fix all these problems. You should not worry, you can perform accounting and financial activities on QuickBooks without affecting its performance. Just follow these 4 tips and you can perform normally on your QB.
4 Tips to Speed Up QuickBooks Performance
Fast Internet Connection: The entire access of stored information and process of QuickBooks depends on internet connection. The slowness of the internet connection causes confusion with the accounting operations.
Hosted QuickBooks permits anyplace, anytime access to the application, using any device connected over a reliable internet connection.
An ugly speed of internet is not required with Hosted QuickBooks, but it has to be fast enough. In QuickBooks speed factor, the internet connection has to be still for maintaining a good speed.
Right Maintenance of  Local Machine: There may be some issues on your local machines like desktops, laptops or smartphones that causes errors with your QB usage. The cloud services are not much dependent on the local machines. You may clear the cookies and cache memory on a regular basis.
Delete The TLG File: QuickBooks automatically creates and store TLG file alongside your main file. TLG file means the transaction log file. If your main files get deleted, this TLG file is sometimes used in recovering the main files.
Note- It does not mean that you require TLG files for QuickBooks. You can delete it without facing any data loss.
The simple way to avoid TLG files is to just create a verified backup of your files in QB. After this, the TLG files will get blank and it will start all over again.
Follow this to create a verified backup:
Click on File>Create Backup>Local Backup and then click on Options button. You must make sure that "Complete Verification" has been selected.
Avoid Corruption: If your QuickBooks has any corruption then it will adversely have an effect on the performance of the QuickBooks and some time may stop working or stop responding in the least. To avoid corruption you can follow two solutions –
You can create a portable data file and restore it.

You can use a QuickBooks File Repair Tool.
With the help of these 4 tips, you can easily speed up your QB performance. After this, if you have any issues in your QB performance just visit at QuickBooks Not Working or call at our toll-free number "+1 855 441 4417" and you get full support from our side.
See more: QuickBooks has stopped working, won't open or QuickBooks is not responding