QuickBooks Enterprise 2018 – What's new & improved features in it
Last Updated on: June 27th, 2019
Posted by:

admin

Category:

Quickbooks Enterprise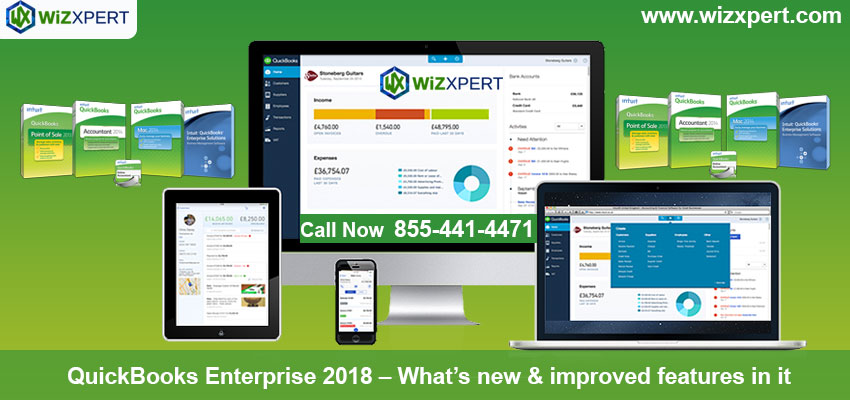 QuickBooks Enterprise 2018 is one of the most accessible and customizable versions of the QuickBooks. So as it's the latest version, with the more advanced and new features, "QuickBooks enterprise 2019". The main aim of enterprise 2018 is to make the life of its users easy by managing their financial data in an organized plan. In this post, we are going to discuss QuickBooks Enterprise 2018- what's new & improved features in it. You can also talk to a
QuickBooks ProAdvisor
at our toll-free
QuickBooks help
+1-855-441-4417 toll-free deep information, regarding this Enterprise 2018 editions.
By this, you can possess the credit cards, payroll, and bank transactions and organize all your financial data in one place. QuickBooks Enterprise 2018 for the Windows desktop has been released! This contains several new features as well as improvements to existing ones and a new version QuickBooks 2019 is also available on the market.
We have tried to discuss all the major changes that we should know about (QB Enterprise 2018) through this article.
Note: This post is dedicated to the new features and improvements in QuickBooks Enterprise 2018. And if you are interested in knowing what's new & improved features in QB Desktop 18.0 click here.
You would be like to read this article:
New Features in QuickBooks Desktop Enterprise 2018:
Mobile inventory bar-code scanning: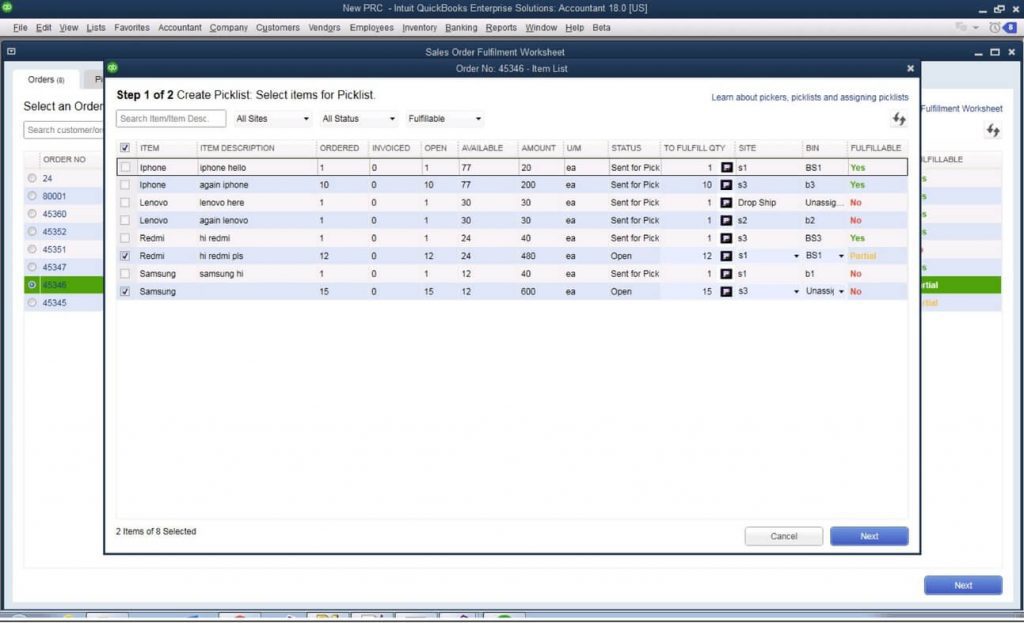 It is used to Speed up the picking process and reduce data entry errors with mobile inventory bar-code scanning. Send sales orders to workers on the floor, scan inventory within a warehouse, and transfer the data.
Work across multiple warehouses or anywhere that has an internet connection.
Improved sales order management and inventory picking: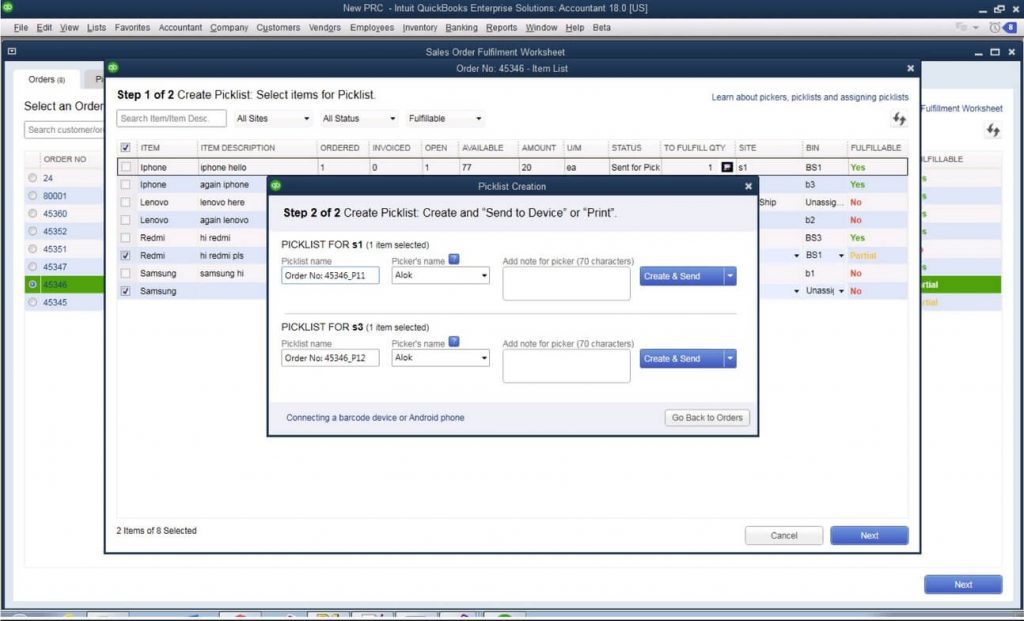 Now you can prioritize urgent orders and fulfill them across multiple warehouses. Your employees can have more control and see inventory availability right on their mobile device.
It is a faster picking process that works across locations that will empower workers and delight customers with faster fulfillment.
QuickBooks Priority Circle loyalty program: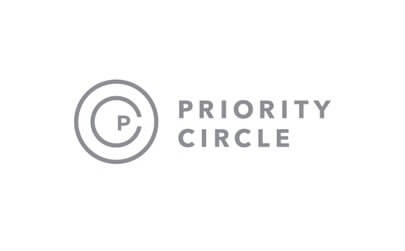 Priority Circle is a free loyalty program for most valued customers. As an Enterprise customer, you'll get access to a dedicated Customer Success Manager. They will work with you to understand your business needs and help you achieve your goals.
They will connect you to U.S. based customer care agents and onboarding specialists, and provide access to free QB training.
Multi-monitor support: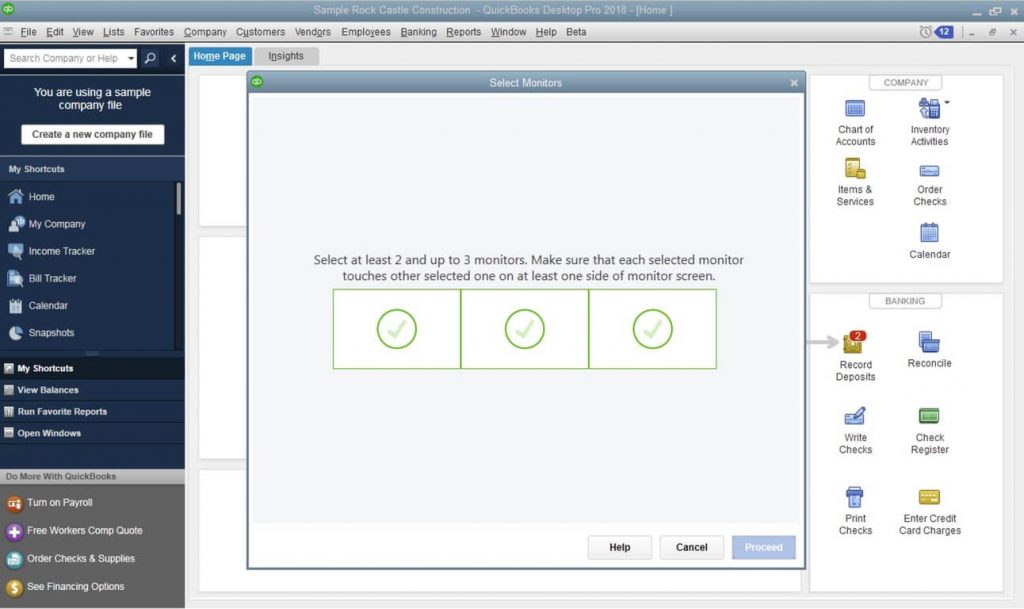 In this feature, you can increase your productivity by creating your invoice and placing customers lists on other computers. you can open a different company file on different desktops.
Inventory reports: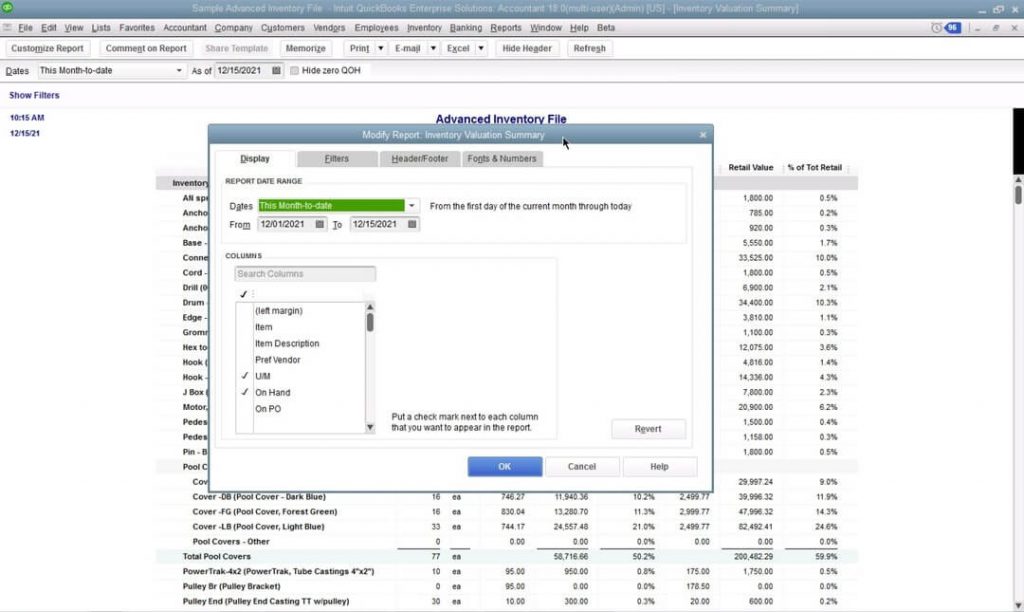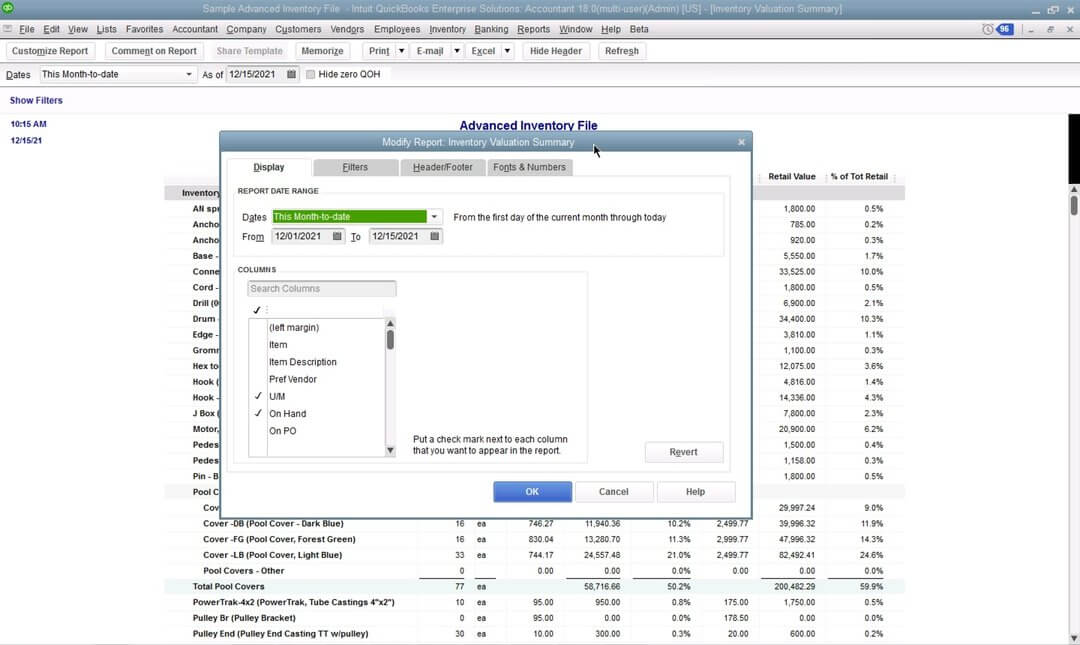 Newly customizable inventory reports will help give you the insights you need to make better business decisions. Choose reports for Inventory Valuation Summary, Inventory Stock by Item, and Assembly Shortage.
Account chart Features:
By this feature, users to easily locate and open a selected chart of account or sub-account with the help of only the account number, account name.
here are some steps:
First of all, Go to Lists and select the Chart of Accounts
Go to the Search Box which is the top left of the Chart accounts list
Type a portion of the account name or number
Click on the Search Button to generate Accounts Chart
Past due Invoice Stamp:
In this new feature has the Past Due Stamp for all the Invoices on the display message on the viewing copy of the GUI.
The system automatically based on the date. it can be disabled on a specific invoice with a single click
here are the same steps to run on in your system,
Create a new Invoice
Select Formatting
Select Templates
Click on the lower left Template drop-down menu and select Edit Templates
Click on the "Print Past Due Stamp."
Why choose QuickBooks Desktop Enterprise 2018?
Scale from 1 to 30 users with the most powerful version of QuickBooks, and never give up access or control.
Get 6x the capacity of other QuickBooks products — support for thousands of QB users, items, and vendors.
Do it all in one place — file payroll taxes, pay employees, accept payments, track inventory, and run reports.
Tailored for your industry:
With versions dedicated to contractor, manufacturing & wholesale, nonprofit, and professional services, Enterprise is specially designed for your industry.
Advanced Inventory helps you make better business decisions:
Advanced Inventory gives you the broad visibility that you need to adapt quickly and fulfill all your customers' needs.
Save time merging vendors:
with enterprise 2018 you can easily identify duplicate vendors and can merge them together. you can merge 4 at a time. you can select the master vendor and pick relevant data from others that are merged together.
Get paid faster and easier:
By using QuickBooks Payments, you'll see money in your pocket more quickly & easily. QB Desktop Enterprise automatically updates/sends payments directly to the bank A/C,  You will always know what your bottom line is.
Pay employees in a snap:
QuickBooks Desktop Enhanced Payroll lets you create unlimited paychecks, use free direct deposit, file payroll taxes, and generate W-2s – with no monthly fees.
Customization of data:
You should keep one QuickBooks Window open at a time on three computers. Easy keyboard shortcuts in QB to move Windows across a screen.
Pricing to improve your bottom line:
By using Advanced Pricing, you can control, customize, and automate your pricing within QuickBooks. No need for manual updates you can easily change your prices to keep that bottom line growing. You just set the price rules and Advanced Pricing does all the calculations.
Streamline jobs by connecting your office and field staff:
Intuit Field Service Management connects your office and service technicians you can schedule more jobs and get paid faster. It tells you who's doing what and where with real-time updates from the field, job scheduling, and on-the-spot invoicing.
Save Time:
You merge 4 vendors at a time and easily identify duplicate vendors.
Some additional features that make Enterprise a great choice for your business:
Advanced Pricing: Control, customize, and automate your pricing right in QuickBooks with Advanced Pricing. Just set up price rules and all the calculations are done for you.
Advanced Reporting: Advanced Reporting puts the information you need right at your fingertips. Build powerful, customizable reports that are auto-filled with company data. Easy templates for contractor, manufacturing & wholesale, non-profit, and retail let you create reports specifically for your industry.
Room to grow with your business: Enterprise has 6x the capacity of other QuickBooks products, allowing for up to 1 million items, users, and vendors.
Designed for your industry: Enterprise has versions devoted to the contractor, assembling and discount, not-for-profit, and retail with the goal that you can get particular highlights like reports and graphs of records explicitly for your industry.
Advanced user roles and permissions: Grow your business without sacrificing control over user access. Set individual user permissions for every role. Predefined, user role templates are included for fast setup.
Scale up to 30 users: Enterprise develops with you, giving you a scale from 1 to 30 clients who would all be able to work at the same time. You can keep up access and control appointing client consents as you see fit for your business.
One-click insights dashboard: Know how your business is doing in one click. The insights dashboard tells the story of your business visually with graphs that zero in on key performance indicators like profit and loss, business growth, net profit margin, income and expenses, and top customers.
Comparison b/w the advanced features of QuickBooks Desktop Enterprise with other QuickBooks products:
QuickBooks Desktop Enterprise
QB Desktop Premier
QuickBooks Desktop Pro
QB Online Plus
Track sales, sales taxes, and customer payments.
✔
✔
✔
✔
Accept credit card payments right in QuickBooks.3
Preferred Rates
Available3
✔
✔
✔
Access to product experts, unlimited technical support, and upgrades.4
U.S.-Based
Experts
Additional cost
Additional cost
✔
Online backup and protection of your QuickBooks data.5
✔
✔
Anywhere, anytime, on any device access.6
Available with QuickBooks Desktop Enterprise with Hosting subscriptions7
✔
Invoice multiple customers at once with Batch Invoicing.
✔
✔
✔
✔
Set individual user permissions to control access to sensitive information.
Up to 115 different activities
✔
✔
✔
Create customized financial reports with Intuit Statement Writer.8
✔
Accountant Edition only
Track fixed assets such as computers and other office equipment with Fixed Asset Manager.
✔
Accountant Edition only
✔
Work in two company files at the same time.9
✔
Expanded list limits allow you to track 100,000+ customers, vendors and inventory items and employees.10
100,000+
Leverage 14 predefined user roles to help you set up new users quickly.
✔
Complete more activities in multi-user mode.
✔
✔
Get the insights to make better decisions
✔✔Limited
One-click financial, sales & tax reports.
150+
Industry Specific
150+
Industry Specific
100+
65+
Import data from Excel, Quicken, Microsoft Office Accounting & prior QuickBooks versions.11
✔
✔
✔
Excel &
QuickBooks
Download or import your bank & credit transactions into QuickBooks.12
✔
✔
✔
✔
Get a consolidated view of your business with Company Snapshot.
✔
✔
✔
✔
Industry-specific reports, sample files, menus & chart of accounts.
See all your key customer information at a glance with the Customer Snapshot.
✔
✔
✔
✔
Track international sales & expenses in multiple currencies.
✔
✔
✔
✔
Forecast sales & expenses. Easily create a business plan.
✔
✔
Access all of your QuickBooks data to create any report you need with Advanced Reporting.13
✔
Consolidate reports from multiple companies files.14
✔
Create custom reports with ODBC-compliant applications using a direct connection to the QuickBooks database.15
✔
Efficiently manage inventory and pricing
| | | | | |
| --- | --- | --- | --- | --- |
| Track & manage inventory & create purchase orders. | ✔ | ✔ | ✔ | ✔ |
| Set and manage inventory reorder points. | ✔ | ✔ | ✔ | |
| Easily find and locate inventory tasks all in one place with the Inventory Center. | Attach Inventory Images | ✔ | | ✔ |
| New! Reduce paperwork and data entry errors by sending sales orders to mobile inventory scanners.16 | ✔ | | | |
| New! Fulfill sales orders faster with a new picking process. | ✔ | | | |
| Improved! Sales Order Management helps empowers employees to fulfill orders faster, and lets you check on sales order status in real time.17 | ✔ | | | |
| Get the right information for your business with customized inventory reports. | ✔ | ✔ | | |
| Manage inventory using bin location tracking, barcode scanning, serial number or lot tracking, FIFO costing and multiple location inventory.17 | ✔ | | | |
| Control, customize and automate your pricing right inside QuickBooks.18 | ✔ | | | |
| Priority Circle19 (Priority Care20, Product Training) | ✔ | Additional eligibility requirements | Additional eligibility requirements | |
| Customer Success Manager | ✔ | | | |
Technical:
System Requirements for QuickBooks Enterprise 2018:
System requirements for QuickBooks are:
Windows 7 SP1, 8.1 Update 1, or Windows 10.
Windows Server 2008 R2 SP1, 2012 R2, or 2016.
2.4 GHz processor.
4 GB of RAM (8 GB recommended).
2.5 GB disk space recommended.
4x DVD-ROM drive.
Payroll and online features require Internet access (1 Mbps min speed).
Product registration required.
Optimized for 1280×1024 screen resolution or higher. Supports one workstation monitor, plus up to 2 extended monitors.
You would be like this:
Integration with Other Software:
Microsoft Word and Excel integration require Office 2010, 2013, 2016, or Office 365.
E-mail Estimates, Invoices and other forms with Microsoft Outlook 2010-2016, Microsoft Outlook with Office 365, Gmail, Yahoo!, and Outlook, other SMTP-supporting Email clients.
Transfer data from Quicken 2015-2017, QuickBooks 2004-2017, QuickBooks Mac 2016 and Microsoft Excel 2010, 2013, 2016, Office 365.
Browser Requirement:
Internet Explorer 11 (32-bit).
That's all from our behalf. If you are looking for  Support, feel free to dial our QuickBooks Enterprise support number 1-855-441-4417.
Frequently asked questions
Que- What is Priority circle loyalty program?
Ans- Priority circle loyalty program is a membership program that includes a dedicated customer success manager, a single point of contact ready to assist and help small business owners with their technical and product questions.
Que- How many users can QuickBooks enterprise have?
Ans-  QuickBooks enterprise is available for 1 to 10 users and 0 to 30 licenses. You can add up to 10 more licenses and you can also upgrade up to 30 for more. 
Que – Does QuickBooks enterprise has a payroll feature?
Ans- In QuickBooks enterprise silver plan you have to pay for payroll feature but in QuickBooks gold and platinum, payroll feature is included in it.
Que- What are the key features in QuickBooks desktop enterprise?
Ans- The new features that are added in QuickBooks desktop enterprise is invoice status tracker, transfer credit, data file optimization, intuit data protect, enhanced pick, pack, and ship, enhanced manage payroll permissions.
Que- How much does quickbooks enterprize costs?
Ans– QuickBooks enterprise comes in the subscriptions depending on the number of users and hosting. The first one is silver that costs $136/mo the second one is a gold subscription that costs $163/mo and platinum plan that costs $191/mo. 
Conclusion
QuickBooks desktop enterprise comes with new features that make your accounting easier so it is a great choice to use it for your businesses. If you want to know more about QuickBooks desktop enterprise you can talk to our QuickBooks desktop enterprise support at Wizxpert.If you wanna get advice from other business owners for your queries please visit our QuickBooks Community.
References:
[/vc_column_text][/vc_column][/vc_row]