Learn To Use QuickBooks Enterprise Features
Last Updated on: March 8th, 2018
Posted by:

admin

Category:

Quickbooks Enterprise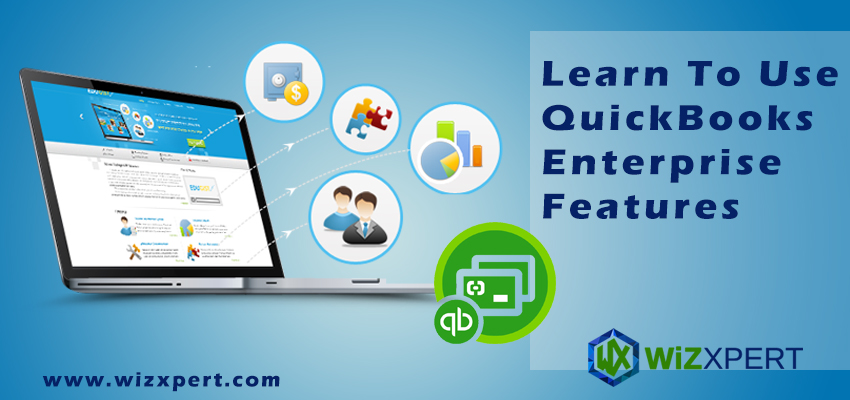 QuickBooks Enterprise software is specially built to provide the accounting solution, for small and mid-sized businesses for major industries. Like manufacturing, retails, real estate, construction, and also various B2B and B2C businesses. The software provides functionality to manage inventory, multiple users from multiple locations. And also a large number of the day to day transactions of sales & purchase.
Furthermore, Particular Software has specific features, like reporting tools which provide facility to generate the customized reports. And also integration with MS Excel to enhance its reporting capability. Providing tools to attach required additional documents. Like estimations, proposals, and also receipts.
Therefore it allows creating different categories inside the system. And also maintains the records of important files. The software allows logging records of changes with date and timestamp that user makes in documents. In addition, QuickBooks Enterprise also allows business to maintain employee information.
Before we jump on learning the features of QuickBooks Enterprise platform, I would like to list the specific QuickBooks Enterprise Features :
Batch Delete/Void Transactions:
With this feature, you are able to delete checks and invoices, or bills in the batch. It is a great feature for error correction.
Accountant Tools:
All type of Accountant tools is now available in QuickBooks Enterprise. Some great features are :
Batch Enter Transactions
Batch Reclassify Transactions
Client Data Review
Write-off Invoices
Bill Tracker:
This feature was introduced in 2014 initially. This feature is the counterpart to Income Tracker. It allows you to view and also organize all the Vendor-related transactions like Purchase Orders, Bills, etc.
Bulk Clear Send Forms:
This feature is used to clear all the transaction. which have been completed and marked them "Sent Later" in bulk manner.
Auto Copy Ship-To Address:
This is a very helpful feature for companies. As it allows users to convert sales order to Purchase orders with DROP SHIP feature.
This Fiscal Year-to-Last Month report filter:
It allows users to select common date rage to fetch out the report. Also, this feature is made available to the previous version of QuickBooks.
Rebuild Data and Verify Data Updated:
When the QuickBooks company file is verified or rebuilt data. Then this feature is used to generate a great report on what has been fixed and what is not fixed.
Custom Field Filtering on Item Reports:
This feature allows you to use custom fields as filters on reports in the inventory items. This is an awesome feature for creating Inventory categories without the need to use Subitems!
Label Printer Support:
This is feature allows you now to print labels on a single roll. Continuous labels, instead of being limited to regular printers only.
The QuickBooks Statement Writer
It works now with Microsoft office 2013!
The Column Sorting on customer payment screen
It is now  also available in QuickBooks Enterprise Edition
Updated Advanced Reporting:
This feature is available with more exciting ready-to-use templates.
Enhanced Assembly Shortage Report:
This feature is used to generate a report to pinpoint inventory issues during the assembly process.
The updated
E-Invoicing feature has replaced the old IPN system. And also it provides a more streamlined electronic payment process to pay Invoices.
Improved Subtotal Item:
With the help of improved subtotal item, you can multiply any numerical value. Like Amount, Price, or any Custom Field which is helpful for calculating total weight.
Some Basic features of QuickBooks Enterprises
Inventory Management
Advanced Inventory Module

Bin Location Tracking System
Barcode Scanning System
FIFO Inventory Costing System
The multi-location Inventory Management system

Maintaining purchase & vendor data
Maintaining Payroll & Employees data
Field Service Management

Set up Work Orders & Scheduling system
Billing & Mobile Payment Module

Customized Reporting & Finances Module
Advanced Pricing System

Set up Quantity Discounts
Setup specific Manufacturer Markdowns
Set up customized Pricing by Classification Price Changes by Class
Specific Security & Productivity Tools
Especially, QuickBooks Enterprise software has specific security features to protect the important data. Therefore, it allows you to give multilevel of authorizations so that you can restrict specific information to specific users. With ease, it allows to you to change its views in an efficient manner. Like you can have a view of custom fields, sales orders, pending invoices, sales receipts which enhances your work productivity.
So, if you are small or mid-sized businesses. Then QuickBooks Enterprise software is a complete solution for your accounting and business management up to some scale. So, get your copy of QuickBooks Enterprise software today!
If you need any further information related to QuickBooks or you QuickBooks has stopped working, you can contact us at our toll-free number for QuickBooks help. Our intuit certified experts will give you a Quality and instant help anytime anywhere in all over the USA.