As we know very well QuickBooks allows the multi-user environment, and it recommended to create & set permissions for new users or also for existing users. Transactions are allowed to users and also very helpful to make any changes to the file are also tracked to the user who logs into the file. 
In today's article, we will explain you how to add user to QuickBooks. Find out steps create a user login and set permissions for additional users.
Steps to generate user login and set permissions for new users
First, go to the menu bar, choose Company, Set Up Users and Passwords, Set Up Users.
Select Add User from the User List dialog box.
Register your User Name and Password and for confirmation enter the password again. (it is optional but recommended)
If you want to add extra licenses to your QuickBooks file, then select the Explain link.
After this, If you did not create a password then choose Yes to create a password and No if you already created your password to skip this step.
Now here choose the access choice:

All areas: It gives full access to QuickBooks except those which need Admin access.
Selected areas: Enables you to select the choices for access to each sensitive section of your QuickBooks data.

Here you are working on the tenth screen (you can also see in the image) you can also reexamine the permissions settings.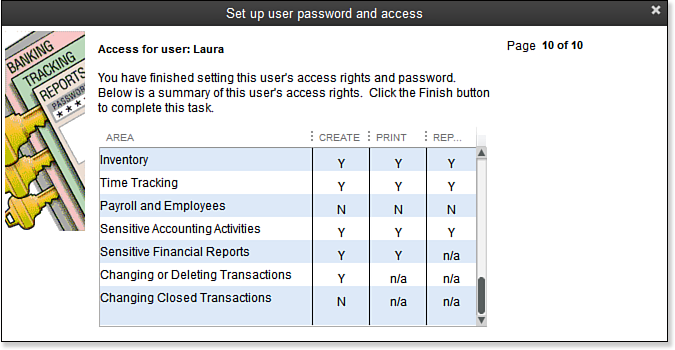 Every dialog box will provide details about access levels and most include some or all of the following permission levels:

No Access
Full Access
Selective Access: It allows the following options

Generate transactions only
Generate and print transactions
Generate transactions and reports
If you are unsure of the limits of the permissions set in QuickBooks Pro or Premier, we advised you to make it for the create only option – the highest level of security. Then log in as the new user and the area the employee will work in to determine whether or not the permissions provide the control you need. QuickBooks will tell you what level of permission is required for anything you do.
Frequently Asked Questions
How many Billable & Accountants users can I set up in QuickBooks Online?
How can I give permission to QuickBooks?
Go to the Menu bar and Choose "Company" in QuickBooks.
Select "Set Up Users and Passwords."
Look for the "Set Up Users" option to initiate the "User List" dialog box.
Here select the name of the user whose you want to change the permissions.
How can I set up multiple users in QuickBooks?
Start QuickBooks.( First, update your file to the new version if it is prompted to your screen).
Select the File menu > click Utilities > then choose Host Multi-User Access.
In case, If it shows Stop Hosting Multi-User Access then it means you are already hosting multi-user access.
How much it will cost to add a user to QuickBooks?
You have to pay cost $ 299.95 / per additional user (but QuickBooks sometimes offers discounts for multiple users, so its recommended to check first from Intuit official website). Basically, QuickBooks allows three users for QuickBooks Pro and QuickBooks Pro Plus.
Can I restrict user access in QuickBooks?
To prevent users from viewing account balances, user rights of use must be restricted.
Go to the Company menu, select User and Password, and after set User.
Select the selected areas of the QuickBooks option, then continue to select the next until you are on the Sensitive Accounting Activities page. Select an access
We are hoping that you've now learned how to add user to QuickBooks & set permissions for new users in QuickBooks. The above discussed are the most flexible way to create and set permissions for new users in QB accounting software.
But if you are still facing the problem in understanding the features of QB and you want to learn more then you can have assistance from our team of QuickBooks ProAdvisor. Our team consists of certified and experienced QuickBooks professionals who can instantly solve any issue related to accounting and bookkeeping. Call us at our 24/7 toll-free customer support number +1-855-441-4417 to know more.