Have trouble logging in to QuickBooks Time? It's time to resolve it, here we are with an article to help you out with QuickBooks Time login issues. Here you will find the different solutions to fix the issue and answers to many questions, those are effective to help you. Meanwhile, you can contact our QuickBooks ProAdvisor for immediate assistance by dialing +1-844-405-0904.
QuickBooks Time is a cloud-based time tracking tool that tracks and manages employees' timesheets. It is a top-rated application and the best tool for all sizes of businesses. It creates real-time reports, reduces user costs, and offers customer support services through call and live chat. It has the ability to use from any device, including laptops, computers, smartphones, and tablets.
Like any technology, it has some common issues. Sometimes, users face login issues with the QuickBooks Time. Let's discuss its solutions to resolve the QuickBooks Time login issue.
How to Fix The QuickBooks Time Login Issues
If you are facing QuickBooks Time login issues, we have solutions that can help you to fix them. Follow the given steps and get the login to the QuickBooks Time.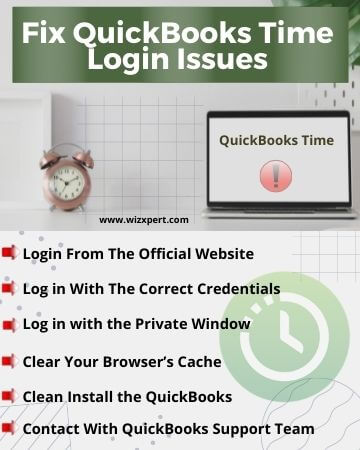 Solution 1: Login From The Official Website
First, make sure you are logging in from the official website. It is very important to log in with the right website to avoid login issues. Log in from the site tsheets.intuit.com instead of tsheets.com. If you are logging in from the mobile, ensure your application is updated and you are logging in to the newest version.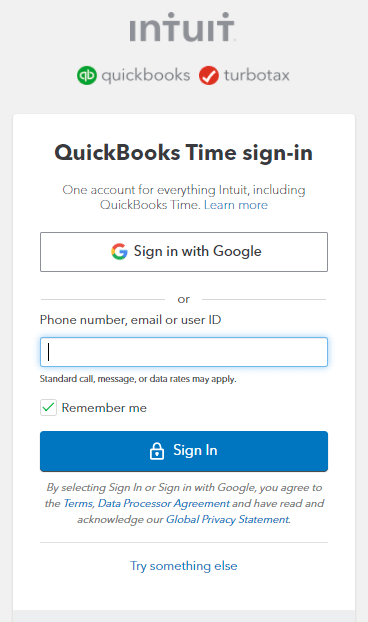 Solution 2: Log in With The Correct Credentials
Make sure that you are using the correct username and password to log in to QuickBooks Time. Without the right credentials, Intuit can't access your account and you will unable to login into the software. Verify that you are using the correct username or password, by accounts.intuit.com. If you forget the password, reset the QuickBooks Time password.
Solution 3: Log in with the Private Window
The browser saves data, cache, cookies, and history. Sometimes it creates QuickBooks Time login issues. The private window doesn't save any data and doesn't create any issues. Using an incognito window helps us to identify the issue. You can open it from the browser menu or using the shortcut keys given below:
For the Google Chrome browser press Ctrl + Shift + N
For the Mozilla Firefox & Microsoft Edge browsers press Ctrl + Shift + P
For the Safari browser press Command + Shift + N
Solution 4: Clear Your Browser's Cache
There are times that the browser is full of cache data and cookies. It can down your performance and stop you to access some sites. Clearing your browser's cache data and cookies can help you out from the issue. Follow the steps to do so.
For Google Chrome users:
Open Chrome browser and click more icon.
Select More tools and then Clear browsing data.
Choose a time range from the top or select All time to delete everything.
Check the boxes next to the Cookies and other site data and cached images and files.
At last Select Clear data.
For Safari users:
Open Safari and go to History.
Click on the Click History and then select the pop-up menu.
Choose the time duration for which you want to clear history.
For Microsoft Edge:
Go to Settings and more and click Settings.
Select Privacy, search, and services.
Go to Under browsing data and click Choose what to clear.
From the Time range drop-down menu, choose a time range.
Choose the data type you want to clear and select Clear now.
If the issue still persists you can try to log in from other supported browsers.
Solution 5: Clean Install the QuickBooks
Sometimes there is an issue with QuickBooks software itself. Clean install the application and try to log in to start fresh. First, you need to uninstall the QuickBooks and then install it again. Follow the given steps to perform a reinstallation of the QuickBooks.
Step 1: Uninstall QuickBooks
Follow the instructions to uninstall the software.
Press the Start button on the keyboard and search for the Control panel and open it.
Choose Program and features or Uninstall a Program.
Select your QuickBooks version from the list of programs.

Click Uninstall/Change and then Remove. Click Next.
Step 2: Reinstall the QuickBooks
Here's how you can easily reinstall the application and start fresh QuickBooks.
Download the QuickBooks version and save the file.
Open the QuickBooks.exe file.
Follow the on-screen instructions and accept the license agreement.
Click Next and enter your product and license numbers and then hit Next.https://www.wizxpert.com/lowes-synchrony-bank-card-login-issue
Solution 6: Contact With QuickBooks Support Team
You can contact the QuickBooks Support team to get support regarding logging in to the QuickBooks Support team.
Log in to the QuickBooks.
Click on the Help.
Type your concern and type I still need a human.
Select only one from the suggested topics.
Select I still need a human.
Click Contact Us.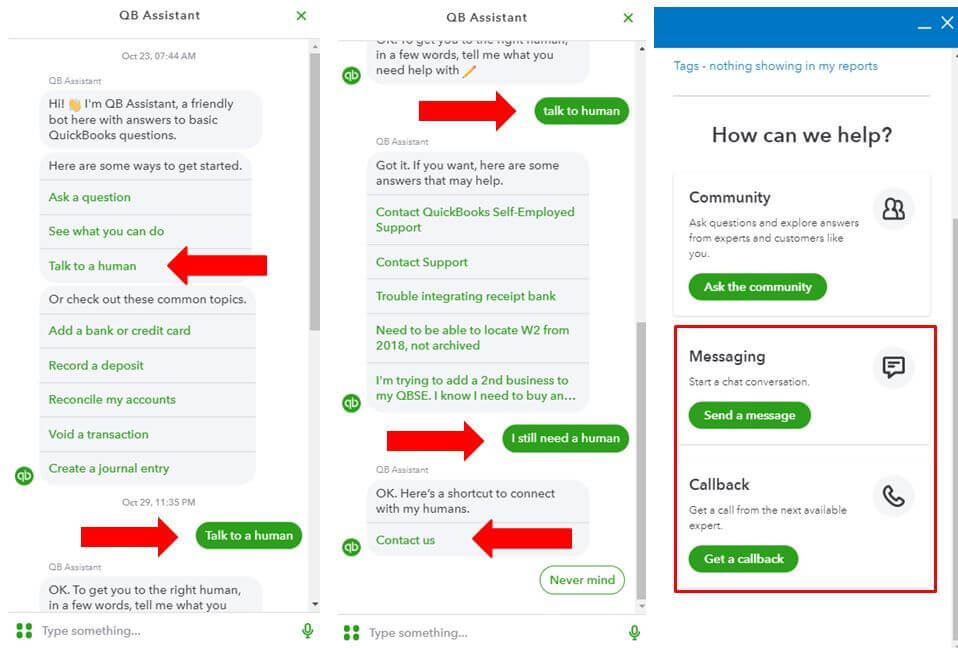 Frequently Asked Questions
Here we have discussed some most frequently asked questions which can help you to get answers to related queries. Read them and know more about QuickBooks Time.
Is QuickBooks Time Tracker free?
You need to purchase a subscription for QuickBooks Time. Your monthly charges will be $20 + $8/user per month for Premium, or $40/mo + $10/user per month for Elite. It includes 30 days free trial. If you are not willing to use QuickBooks Time as a trial, you will get 50% off on the base fee on both versions. 
How do I log into QuickBooks by time?
To sign in to the QuickBooks Time for the first time, you need to receive an email from your admin containing your company details. After accepting the invitation sign in to the QB Time account with the following procedure.
1. Visit QuickBooks Time sign-in page.
2. Enter your phone number, email address, user ID, and click Sign in. 
3. Enter your password and click Continue.
4. Go to QuickBooks Time and click Sign in from the top right, then click QuickBooks Time dropdown.
5. Enter your email and username and click Continue.
6. After proceeding click Sign in with QuickBooks Time or Sign in with Intuit.
7. Enter the password and hit Sign in.
Is TSheets the same as QuickBooks Time?
TSheets was a web-based time tracking and employee scheduling application. Later in 2018, Intuit acquired TSheets and rebranded to QuickBooks Time. There are no changes made in the product features and functionality. Overall customer experience is the same, even though the name has changed. 
How does QuickBooks Time tracking work? 
QuickBooks Time tracker inbuild with the GPS feature that tracks employees' location. The app records the login and logout status of the employees, who is currently working, how many hours they log, and where they are. It eliminates any manual entry mistakes, saves time, shows accurate and real-time data. 
When does QuickBooks Time give the location to the employer?
QuickBooks Time always tracks your location, but your employer can't access your location unless you clock in. When you clock out, your location data is saved on your device and only sent to your employer when you clock in. QuickBooks time uses your location all the time to know when you've arrived at work even when you forget to clock in on time. 
What are two ways to track time using QuickBooks Time?
You can track time in QuickBooks Time in many ways like clocking in and out, using the mobile app, entering time manually, or using QuickBooks Time Kiosk. You can use any one of them or all to get the information of your employees. 
We cover all the methods to resolve QuickBooks Time Login issues and related questions to it. Hope the article helps you to find your solution. If the above solutions didn't work for you and the issue still persists, don't worry. We are here for you until you find your solution. Call our QuickBooks ProAdvisor and get instant support by dialing our toll-free number +1-844-405-0904.