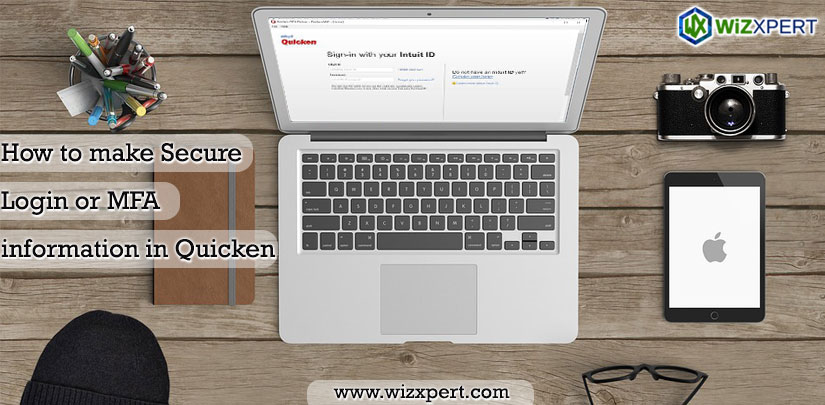 Here we'll discuss secure login or MFA (Multi-Factor Authentication) in detail. So, before moving further let's first understand What does secure login means?
Well, our top priority at Quicken is the security of products. For this, we will continue to invest in order to ensure that our products have industry-leading protection.
And here we are implementing a new login process to safeguard customers' sensitive information. Thus, this whole process is known as Secure login or MFA. For an unauthorized person to access a computer, network or database secure login makes it more difficult.
Recommended reading: How to fix QuickBooks Online login problem.
Steps to show how Secure Login or MFA Work
After you log in with your Quicken ID you are asked to enter a security code in order to continue.
After that, your security code is sent via email or also on a mobile phone if you have added a mobile number to your Quicken ID profile.
Now, you need to enter this security code in Quicken before proceeding with your download.
Is it important to use Secure Login or MFA each time whenever I update my Accounts?
Well, the answer is "No". You are asked only once after Secure Login is first turned on. And after that, you are required to complete Secure Login about every two weeks or if you start using Quicken on a different computer.
Is there any need to do anything in order to enable Secure Login or MFA?
No, not at all because Secure Login is enabled for all Quicken customers.
Is it possible to control the email address or phone number used for Secure Login or MFA?
Yes, you can easily control as your Secure Login security code will be sent on your provided email address or mobile phone number associated with your Quicken ID.
In order to update your email address or mobile phone number, you need to visit the Quicken Profile Management page directly in your web browser.
Why do I have to follow all these steps just to update my Quicken accounts?
In order to access your account, you need to increase the number of steps because of the increase in identity crime. As you entrust us to protect sensitive data that's why it is our responsibility to look after it because our main priority is our customers' privacy and security.
However, multi-factor authentication is becoming very common for financial services and sensitive web-accessible products.
Therefore, we always recommend that customers should take precautions to protect their identity. It is necessary that you not only create strong passwords but also avoid using the same password for all your accounts.
As security is a shared responsibility, so even with secure login in place you can also perform these steps in order to prevent yourself:
Avoid using the same password for your Quicken products that you were using for any other online products. Try to use unique information rather than basic information that can easily be found online.
Avoid clicking on suspicious links when you receive email notifications. In fact, it's better you can do cut and paste the URL link directly into your browser.
When I checked my email, there is no any code arrived, what should I do?
Sometimes, it takes a few moments for the code to arrive in your email box. So you have to keep patience for a few minutes. There might be chances that your code is in your junk or spam mail folder, so you need to check if the code went there.
In case the code doesn't arrive then you need to click the Didn't receive a code link in the Check your email window in order to generate another code.
Points to remember: It is seen that, once you generate a new code then any prior code will expire. Therefore it is important to use the most recent confirmation code sent to you.
Is this a signal that someone tried to access my account?
No. As it has an extra layer of security that is being implemented as an industry best practice for all of Quicken's products. We use the same encryption and security measures as major banking institutions. So you can be assured that protecting your data and privacy is our topmost priority.
Will changing my email change my present User ID?
No. After updating to your Quicken profile on the Profile Management page you will see that an option to update both your email address and your "User ID" even if they are currently the same. So, it's better you change your User ID if it is same as your email address. Otherwise, you'll have to remember to use your old email address as your User ID and this could be confusing. In order to change your User ID, you need to edit the User ID field on the same account management page.
Point to remember: You need to remember one thing that if you have more than one Quicken product or service associated with your account and user ID then this user ID change will probably affect all of those products.
What should I do, if my code fails to work?
In case, you have typed the exact code that was sent and it doesn't work then this is the most likely because you have already generated the multiple codes and are not using the most recent one.
Now you need to click Didn't receive a code, then wait until the new code arrives. You need to use the most recent code sent to you as this may take several minutes.
Note: It is seen that some email platforms append emails from the same sender. Therefore, your latest code may display as a response or reply to one of the earlier codes.
What will happen if I will try to change my email address?
In case you log in to change your email address at the Quicken Profile Management page then the confirmation code will be sent to the email address currently associated with your account. And if you have access to that email address then please use the confirmation code to sign in. Now you can change your email address and any future log in confirmations will be sent to your new email address.
Following are the different ways to bypass "Confirm my account a different way" when prompted for a verification code?
If you need immediate access to your data file then you can follow the steps given below in order to change the email address associated with your file, so you can quickly receive a verification code:
To change the user email address:
You need to close Quicken and disconnect from the internet. Then, reopen Quicken.
When you open Quicken then you are prompted for your Quicken ID password.
Next, you need to enter the password you usually use to access your data file.
And you are not prompted for an MFA verification code, because you are offline.
You need to go to Edit > Preferences and then select "Sign in as a different user". And, then tap "YES" button to continue.
Now, you'll find that your screen will refresh and present you with an error that you are offline. Hence you can connect to the internet again.
After that, you'll be prompted to sign in with your Quicken ID.
Again choose to create a new Quicken ID and then use your current email address to register.
Finally, you need to complete your registration and log into your Quicken file.
And, now when you are prompted for the verification code, you can have it sent to your current email address, and verify your identity.
Conclusion
We have discussed Secure Login or MFA information in detail. Hope, the given information will help you solve your queries. Just go through it and if you need any further assistance then don't hesitate to contact our Quicken Support. You can also dial our toll-free number +1 +1-855-441-4417.