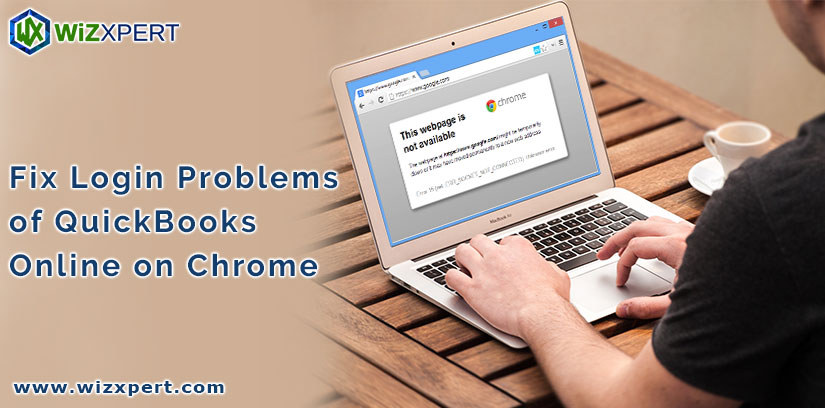 Sometimes you may face different kinds of errors when login QuickBooks Online with chrome. There are various reasons for the occurrence of this error. So here in this blog, we will discuss the process of fixing these QuickBooks login issue on chrome.
As you know QuickBooks Online is a popular web-based accounting solution. The accounting software helps users to send invoices to its customers, manage business expenses and incomes and access information associated with the company finances from your PC over the web.
QuickBooks Online edition is famous for the high-speed functioning, sometimes you may get the slow speed due to different issues that may be with your web browser or QuickBooks Online itself.
Google Chrome is a widely used browser, and it's a perfect match for the accounting software. Sometimes you can face the few chrome login issues which that can be annoying and low down your productivity.
QuickBooks login problem on Chrome
Google Chrome shows up different kinds of problems while logging to QuickBooks Online Accountant.
Sometimes, your computer screen shows the "loading" message on your browser but nothing ever loads
You may get the messages that the services are not available
Other times there is a loop, where you get the sign-in screen, after that you get a screen to choose my company, then return to the sign-in screen.
4 best solution to fix the Google Chrome login problem:
Follow the steps and resolve your Chrome Login problems.
1: Use Any another Web Browser
You can fix this problem by using another or different browser. Sometimes you may not be able to log in using Google Chrome but you can log in through Internet Explorer or Firefox. You can use the IE to export your data back to QuickBooks Desktop.
2: Chrome Browser in Incognito window
You can fix the problem by trying the login QuickBooks via Google Chrome's incognito mode.
In incognito mode Chrome opens a window that does not record your browsing and download history and even doesn't saves any new cookies permanently.
When you are unable to use QuickBooks in normal mode those time you can use the Incognito window mode. It's simple to use.
Follow the exact steps mentioned below:
On your Chrome browser click the customize and control icon in the upper right and select New incognito window (Use shortcut key Ctrl+Shift+N).
When this will open a separate window in "incognito mode" You can note the icon in the upper left corner.
3: Clean history or cache
If you are still facing the login problem you should follow the third step. Old history or cache can be the reason for the slow performance of Google Chrome when you open QuickBooks.
Clear history or cache by following the given steps,
On the top right side click the "Customize and control icon" of your Chrome browser and select the "settings.
Choose the history tab on the left and after that click the clear browsing data button.
Open your system and check the browser history, and when you click on clear browsing history many boxes appear on the screen you may select the appropriate box and clear everything (cookies, and other site and plug-in data, and cached images and files.)
This method solved plenty of issues as well.
4: Additional Chrome User
You can create the additional chrome user for working with QuickBooks Online. This is a good idea for you and helps in reducing the working hour.
To create an additional chrome user follow the instructions below;
First, open Chrome browser to and select the settings tab on the left.
Near the bottom of the page, you will see a users section.
Click the "Add new user" dialog box.
Now choose an icon, type a name, leave the create a desktop shortcut and then click the Create button.
The new user icon appears on the top left corner of your browser. Click on it if you want to switch between each other. If you want to change to a different user then open the separate window will be opened for that user.
Conclusion:
When you load any one of the websites on your computer with the Chrome web browser and you're incapable to sign into any websites, it can be a problematic circumstance.
For this type of problem, you could examine the web browser's settings, and make certain that there is not any type of problems linked to Chrome.
Additionally, you should also make sure that the cookies and JavaScript are enabled, and also no one has access to your accounts.
These given details are the best solution for all issues if you not getting any issue when you load your favorite site with Chrome internet browser. You can also take help from QuickBooks support team by dialing our toll-free number +1- 855-441-441.