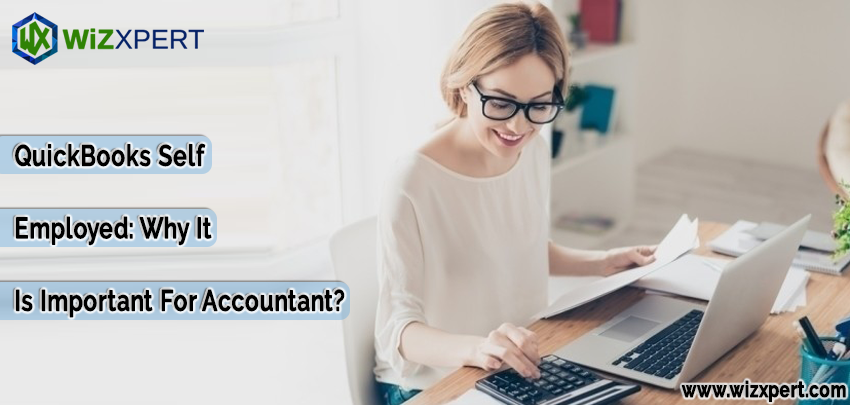 We are happy to share with you this valuable information about QuickBooks self Employed. A fully developed organization have the number of employees. And also multiple management levels do have QuickBooks accounting software installed in the system and they properly work on them.
QuickBooks has come up with yet another tech-savvy product called QuickBooks self-employed. And its necessity for accountants.
QuickBooks Self employed is a software solution for accountants as it makes calculations easier. Thereby minimizing accounting and payroll confusions, so you easy to tackle with clients accounts. Most accounting professionals are not familiar with this product. But it could be very important to them and its introduced by Intuit.
QuickBooks Self-Employed – An Overview
QuickBooks Self Employed is just a bank feed that funnels information into some tax documents. And it is not a full accounting system. This software meant for self-employed individuals and help to track income and expenses records accurately.
It manages the accounts to fulfill their tax needs in a hassle-free manner. But it is also a time-consuming process takes some delays the whole process. QuickBooks Self employed to provide the best support in the QuickBooks ecosystem.
Today, major issues with the calculations for a small business owner and he do the struggle with the tax computations.
Intuit putting the lots of resources into developing and expanding the market of QuickBooks self Employed. And it also tells the quality of the product how this may fit into your business plan? Here we show the interesting graphic of Intuit, so it is easy to understand the why this product exists.
Intuit calculate the business firms and their employees such as at least 750 million business can be lumped into the Self Employed group. The business that has no employees. Intuit wants to own a very large market on a worldwide basis.
QuickBooks Self Employed Features:
QuickBooks online features are different from QuickBooks self Employed and that makes the first choice of accounts. User think about it why it is different from other product? and why is useful for small business?. So we here answer now and describe the best features of QuickBooks self-employed.
Easy Tax Computation
Its help to pay the tax without any problem and you never miss out the tax. It's easy to calculate the taxable amount based on the income throughout the year. User pays the tax and help to the clients for paying tax.
Mobile Technology
In the world, mostly person want to do all work on mobile. Due to this reason mobile technology grow rapidly. It provides to work entirely on a mobile device, although you can also use it in a web browser. Many small businesses have access to the internet through mobile devices in some countries.
Mostly user's are mobile friendly so he easy to take advantage of Quickbooks self-employed. This is best features of QuickBooks self-employed.
Mileage tracking Automatic
QuickBooks self-employed provide the better facility to keep track of actual expenses against standard mileage expenses. You don't need to record the expenses manually on paper because mileage app allows the automatic tracking of the mileage in the background on your phone or other devices.
Globalization is key
When any product is famous at the world and mostly user use a product as basic needs of Business, so it makes the best position in the market. QuickBooks self Employed currently available in the US, United Kingdom, and Australia and as soon as this product available in most cities.
Business & Personal Transactions Remain Separated
It helps to separate the Business and personal transactions and easy to use for individuals who are an expert in the field.
Data Collection
QuickBooks Self Employed collect the data similar to QuickBooks online and It can use that to alter how the program works. Data collection is the most important term of users for future reference.
Single person Business and contract workers
Single-handed business is a good idea because you boss of your own business and the aim of this product is one person business. This product best suited for part-time or contract workers – 1099 workers rather than the W2 employee.
Working in the Cloud
This product is different to QuickBooks online or not a cut-down version of QuickBooks online. Working of QuickBooks Self Employed is Cloud-based, so it is easy to handle.
We provide here two mobile devices screenshots below, you easily see these screenshots users classifies each new transaction as being business or personal by swiping right or left. You feel that it's just like a dating app!
We already have known, Intuit is applying machine learning to these transactions. So, they are auto-categorized into your Schedule C classifications. So without human intervention transactions categorized accurately, it's the best thing for users.
Intuit already know his product is very good and useful to users for accounting purpose and accounting professionals tend to discount on it.
Intuit aims to generate revenue from attachments, such as Turbo Tax and QuickBooks Payments. So he can afford to keep the subscription price low for Quickbooks Self Employed.
This is the main difference between Xero and Intuit in this marketplace. As Xero does not own their own tax and payment processing products.
QuickBooks Self-Employed Plan
Keep track and separate expenses(personal and business)

Organize schedule C deduction at tax time

Calculate estimated taxes due to each quarter

Track mileage automatically when you download the app

Create a simple invoice with the ability to track them
QuickBooks Self-Employed Tax Bundle
The ability to pay your quarterly taxes online

Export schedule C automatically to TurboTax Self-Employed

File federal and state taxes
QuickBooks SE has offered 30 days risk-free trial. You don't need to provide credit card information initially. After 30 days you cancel or provide your credit card and pay the monthly fee as described above.
How QuickBooks Self-Employed Play Important Role To Accounts?
When you think about your accounts and taxes, It's a very messy thing. People are not aware of the working process of QuickBooks Self Employed. And when you working with high volume low-cost tax engagements.
You can add the QuickBooks Self employed account to your QuickBooks online Account. And access to all of the client data. Don't do all the data entry in QuickBooks Self Employed, you have to do is review the work.
Intuit is going to work very hard to connect these users to an accountant and provide more services for user-friendly.
Integration with Quickbooks Online Account.
Access to the Accountant specific tools to help you manage your clients' Financial data.
Important for your clients:
Organized your business spending.
Get your estimated tax payments calculated for you
Put your expenses into the correct Schedule C categories
Export your records to an easy to read Schedule C
Claim a mileage deduction by tracking business miles you drive
Help you figure out your business profit
Connect to Turbo Tax for fast year-end filing
Where This product Is Headed:
This product fits in the global marketplace and it is placing a great deal of focus on this product. We want to share our predictions for QuickBooks self Employed are:
Additional self-employed workflows added to the product it will give invoicing and mileage.
I think you start the work with mobile devices for seeing the features of the product before they are released into the browser version. The reason it's your curiosity for knowing the features of this product.
You will add the expect more attachments, which is where Intuit generates the most revenue.
Integration with ProConnect Tax Online and QuickBooks Self Employed is just with Turbo Tax.
Intuit creating a transition path to QuickBooks Online. Because starting time, no transition path to easily move someone from QuickBooks Self Employed up to QuickBooks Online.
Big data and machine Learning, Intuit focus the machine learning. For accounting purpose, machine learning will push the all user's data and the user's specific data into the background. So that everything is taken care of for you.
For further discussion or support, Content us at our toll-free QuickBooks Support Number +1-855-441-4417.