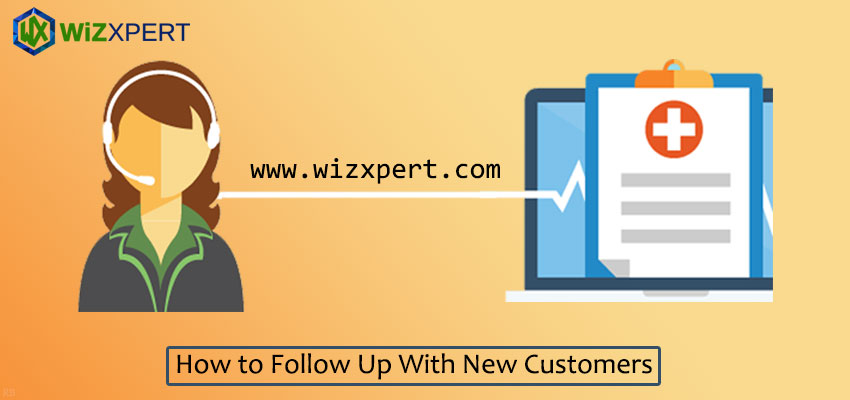 How to follow up with new customers?
Are you ready to expand your network, want to follow up with new customers? or make new connections, in short, wants to grow your business?.
But, thinking about how to follow up with new customers. or why we need to follow up? What are you doing to get new customers back to your business? Read this Article and Learn How To Stay in Touch With new Clients? or How to Show how much you care about them even after they're gone?
The first question that comes to your mind is why you need to follow up today? If you've faced this tough question then answer is right here.
When you start a new business or release a new product, your primary focus is on spreading the word across the market and once that's done
potential purchaser pulls up their socks to get associated with the new venture.
But that is not the end of the story Business, Marketing & Customers these are the three aspects that are interconnected to each other
Related article: 6 Reasons Why Most Startups Fail
Follow up these ideas to follow up with new customers
Give a Warm Welcome
One of the easiest ways is to keep your customer feel special is to send a welcome email. With Consistent Contact, you can customize your welcome email with your own branding, logo, and content.
Each time whenever a new contact joins your list, they will directly receive your welcome email.
You can Consider these elements in your welcome email
A warm welcome and friendly introduction.

Summary of what you've to expect in future mailings.

A guarantee of data privacy and security of your product.

Personal signature with your contact details and address.
Related article: 8 Expert Tips for Hiring the Best Employees
O

ne of the basic elements of customer service
One of the important elements of customer service but easily forgotten people don't think about it. They figure once a customer was done or gets off the phone they finished with that client. There's nothing left to do.
Always Remember Relationships doesn't build up overnight. You've probably heard the old saying," you only get one chance to make a good impression". There are many variations on it but the idea is sound the same.
People form lasting impressions of others based on their very first impressions.
Businesses are usually following up to get the sale to the clients. But then after that, they don't contact the client until they need to make the next one.
This only shows how the businesses are only interested in the point of sale support–not the success of their customers.
That's why you should review every possible point of contact with your new clients. To both on a personal and company level. Any point of contact is potentially the first point of contact.
Consider how you answer the phone calls provide them a customer support phone number, how quickly you respond to email or how Quickly you resolve their queries,
While a strong first impression is an important step towards an abiding relationship, you need to go a step further to show your clients how important they are to you and gain their Trust & loyalty.
Even after a great first experience of customers with your business, there's a good chance if your customer is not aware of the various products or services you offer.
Give people some details to come back by giving them more information on your business specialties.
Related article: 10 Things to Look for when Hiring an Accountant
If you've any seasonal service offer or products that can help a customer solve a problem during a certain time of the year.
Consider offering these services at a discount to new clients, or creating a getting started package focused on new customers.
If there is a time of your product where many customers experience problems, don't wait for them to call you. Get on the phone or email them.
Suggest and tell them how to fix their problem. There are many components to client service, and you will need all of them to truly satisfy your new purchaser.
QuickBooks Customer Support service involves being a true, attentive, and professional face for the company.
It also involves how you listening carefully to the client what are they want and their concerns.
After listening to their client, support service is doing everything possible in one's power to precisely & simply serve to each customer.
Finally, support service is clearly explaining solutions to clients.
All of these elements of support service lead to happy and loyal customers, which you all know is the ultimate goal of every company.
Ask your customers for feedback
Ask your customers for feedback this is also a great chance or opportunity to ask questions that will give you a better sense of who are your customers, and what they're interested in and the ways you can connect with them.
Thanking your new clients for their business will go a long way in showing them they matter to you and how much you concern about their needs.
The Great thank you will be personal and offer clients an incentive to come back again. Think about how you can offer a thank you that's original.
Consider something creative like a short video or sending a thank you mail, come up with some new ideas and encourage your clients to do business with you again.
Set a limited time offer for returning customers to encourage them to do business with you again in the future.
You must know that If you invest in building relationships with your customers
You must know that If you invest in building relationships with your clients through email marketing, they return the favor by coming back to your business again and letting their own audience know about their great experience with you.
With these great ideas, you're ready to reach out to new clients. And know how you follow up with new customers.  And now you continue offering them an experience your competitors can't match.
If you have any query related to this article you can dial our "QuickBooks helpline number +1-855-441-4417 teams.We have a professional team for solving your problem.

You may also like: Success: 7 Best ways to measure Business Health