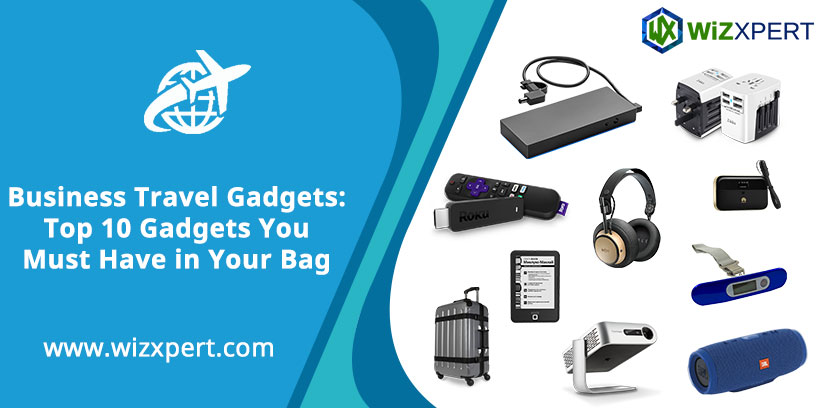 Business travel packing can be very challenging–not only do you have conventional travel worries like missing your flight or getting lost to contend with, but you also have important work to complete.
However, with some careful preparation and making your travel packing list, travelling for work can be a breeze.  So here are 10 glorious business travel Gadgets that you need on your next business trip.
10 Business Travel Gadgets, You must Buy
Power bank
With a busy business schedule to follow, it's easy to forget to charge your phone or laptop. So invest in a power bank with plenty of capacity, because it'll enable you to charge your gadgets on the go.
Streaming stick
A streaming stick such as the Amazon Fire TV is the perfect gadget for keeping you entertained during your hotel downtime. Just plug it into the TV and enjoy great shows, videos and games.
Headphones
Get yourself into a positive head space by investing in a pair of noise cancelling headphones that'll block out the chatter of other passengers on your flight so that you can relax and focus on your work.
Luggage tracker
Missing luggage is the last thing you need on a business trip. But with a luggage tracking device like LugLoc you'll be able to locate your baggage from anywhere in the world via GPS.
E-reader
Travelling is the perfect time to get your nose into a good book. So buy yourself an e-reader where you can store hundreds of top titles. Whether it's an entertaining work of fiction or informative business report, it can all be conveniently stored on this one device.
Portable projector
A portable projector is a handy multi-purpose tool for the traveling businessperson. It is perfect for impromptu meetings, practicing a presentation or alternatively, for watching films and TV in your spare time.
Digital luggage scales
Whether you're stuffing gifts for colleagues or souvenirs for family into your luggage, a set ofmini digital luggage scales allow you to weigh your bags in advance and avoid any charges at the airport.
Travel adaptor
If you're travelling to a range of countries, make sure you have a universal adapter to keep your electrical devices fully powered. The Joomfeen travel adapter is an excellent option which covers over 150 countries and can charge up to three devices. 
Mobile wi-fi device
Hotel wi-fi can be temperamental, so save yourself the stress by getting a mobile wi-fi device. This way, you'll be able to access the internet wherever you are and ensure that you're perfectly prepped for business.
Bluetooth speaker
With a Bluetooth speaker, you'll be able to enjoy music wirelessly. So whether you're planning to blast out some tunes and boogie or play quiet background music whilst working, it's a brilliant gadget to have.
Gadget protection
Don't risk your terrific tech getting damaged on crowded public transport on the way to your flight by driving instead. And remember that you'll need to stow your car for the duration – you'll find fantastic parking deals on airport parking site Looking4.com.
That's our list! Share your favorite business travel gadgets in the comments section.