Convert QuickBooks Desktop to QuickBooks online
Last Updated on: January 31st, 2018
Posted by:

admin

Category:

QuickBooks Online
An Introduction-QuickBooks Desktop to QuickBooks online
Recently, it is discovered that QuickBooks Enterprise is not satisfying the user needs. It may also too costly to keep going with the new QuickBooks Enterprise (QBES) subscription model. There is no any way to convert it to  Pro or Premier. But there is an efficient way of using QuickBooks Online (QBO) as a pass-through conversion tool. Recently, Intuit has made it easier and faster to this conversion by leaving much less cleanup work to do. After doing this, you can easily import your QBES data or files into QBO  and then export it back to Desktop version (QBDT). Below you'll get process to convert QuickBooks Desktop to QuickBooks Online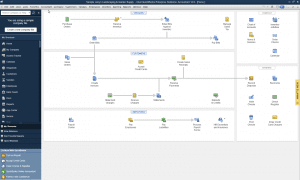 Before converting QuickBooks Enterprise Desktop to QuickBooks Online, you should do two important steps:
You must logged-in already as the Administrator in both the Desktop file and QuickBooks Online.
You should not have 350,000 or more QB company files.
How to convert QuickBooks Desktop to QuickBooks Online?
To convert QuickBooks Desktop to QuickBooks Online to import your database, do follow some steps:
Open QuickBooks Online and subscribe here.
Before conversion, please make a backup file of your QuickBooks Enterprise.
Create a second copy by restoring the backup file so that if anything goes wrong your original file is safe.
Now, open QB Enterprise Solutions on the home screen.
To open Product Information window, press Ctrl+1.
Press Ctrl+b followed by Ctrl+q keys from the keyboard.
Click on OK to close the window.
Now, below screen will automatically come up. If it doesn't come, try to do steps 2 and 3 once more.  
Please enter your QBO user ID and Password.
Agree to the Terms of Service and click on Submit.
Enter pick the QBO company or choose the option to create a new Online Company.
Choose the options whether you want to import only Lists and balances or All company data from your Enterprise company file into QBO file.
Click on OK, got it.
Now, Intuit will send an email to the email associated with the QBO User ID when the file has been incorporated into the QuickBooks Online Company file.)
After receiving the Intuit's email mentioning that your data has been incorporated into your QBO Company file, again log-in to your QBO account. Now, you can compare your QuickBooks online data with your QuickBooks Desktop Data or files.
Hope this article will be worthy and helpful for you. If you also have any queries related to  Payroll, you can get in touch with our technical executives by dialing QuickBooks Payroll Support phone number 1-855-441-4417 available around a clock.