System Requirements for QuickBooks Enterprise 2017
Last Updated on: May 2nd, 2018
Posted by:

admin

Category:

Quickbooks Enterprise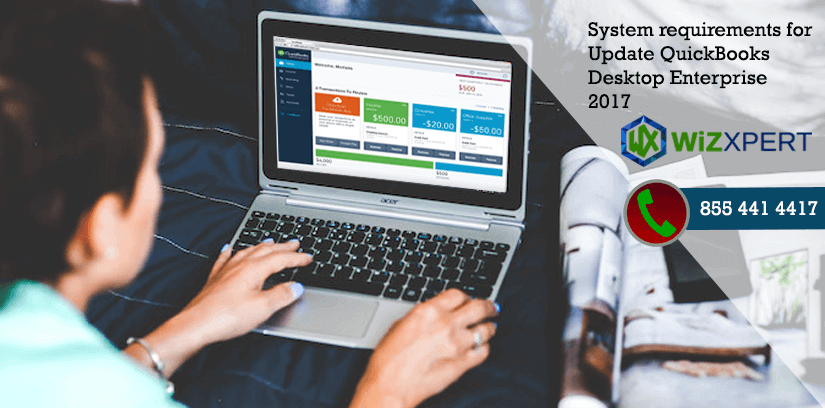 System Requirements for QuickBooks Enterprise 2017
Before installing any software or application,  you should always check for the system requirements. Because it tells whether your device is compatible with the piece of software you are installing.
The blog provides all needed information to make sure your computer external and internal software or device meets minimum requirements for your version of QuickBooks desktop. Still, if you find any kind of difficulties, you can ask for help from our QuickBooks customer service team.
Read also: What's new in QuickBooks Enterprise 2018
Operating System Supported
Windows 10 (64 bit)
And Windows 8.1 (64 bit)
Windows 7 Service pack-1 (64 bit)
Windows Server 2012 R-2
And Windows Server 2011 R2
Windows Server 2008 R2 SP1
Note: Windows Server 2011 R2 is only supported with QuickBooks Desktop 2017 R4 and QuickBooks Desktop Enterprise 17.0 R4.
Related article: What are the System requirements of QuickBooks Pro?
Database Servers
Windows Server 2012,
And Windows Server 2008 R2,
Windows 10, Windows 8.1 (update 1) or Windows 7 SP1 (Enterprise and Professional editions only)
Linux: When using QBES Database Server-only installation – OpenSuse 42.1, Fedora 23, Red Hat 7 (Update 2)
 Hardware and operating system requirements (client and server)
Minimum 2.4 GHz Processor
Minimum 4 GB RAM, 8GB RAM is Recommended
Server RAM requirements
For 0-5 Users – 8GB RAM
For 10+ Users – 12GB RAM
And For 15+ Users – 16GB RAM
For 20+ Users – 20+GB RAM
4x DVD-ROM drive needed for CD installations.
Display optimized for 1280 x 1024 screen resolution
Internet access is required
US version. Regional Settings are supported when set to English (United States) with keyboard setting to U.S. only.
Space Requirements
5 GB of disk space is required
Additional software: 60 MB for Microsoft.NET 4.6 Runtime, provided on the QuickBooks CD
For QuickBooks Connected Services offerings, additional requirements for Intuit Data Protect
Minimum 4.0 GB RAM required
Software Compatibility
 QuickBooks is capable of integrating with hundreds of third-party applications.
Microsoft Office – Office 2016, Office 2010, Office 2013/Office 365 (including Outlook 2016, 2010 and 2013); (Office 365 is only supported when installed locally and not on the web version)
QuickBooks Point of Sale V12.0, V11.0, V10.0
Payroll and other online features and services require Internet access with at least a 56 Kbps connection speed
TurboTax 2015 and 2014 (Personal and Business)
Lacerte 2015 and 2014
Pro-Series tax years 2015 and 2014
QuickBooks for Mac 2016`
Gmail, Yahoo, Outlook and other SMTP supporting E-mail clients
TurboTax 2015 and 2014 (Personal and Business)
Internet Explorer 11
Firewall and antivirus software compatibility
Windows Server Firewall, 7 & 8.1 Firewall (all editions)
Microsoft Security Essentials
Avast
AVG
Symantec
ESET
Avira
Kaspersky
McAfee
Bitdefender
Malware bytes
We hope the above-mentioned point will provide you enough information about System requirements for Update QuickBooks Desktop Enterprise 2017.
In addition, if you need further support & assistance, contact us at QuickBooks Enterprise Support phone number +1-855-441-4417.
Related Blogs:
­­­­­