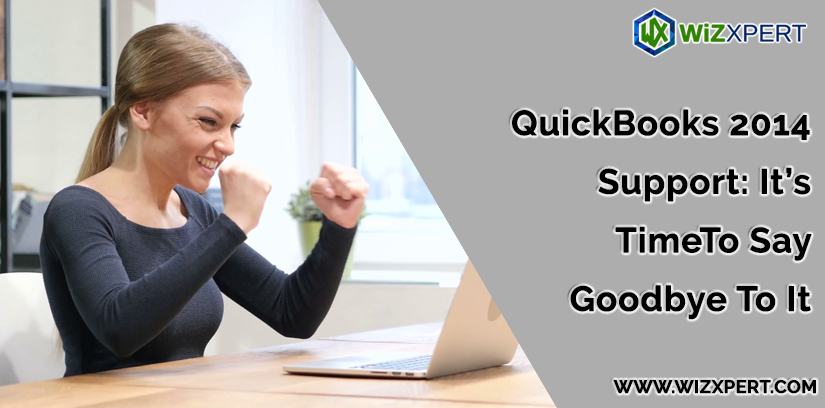 Intuit introduce a new version of QuickBooks so it's easy to say goodbye QuickBooks 2014 and work with the latest version of QuickBooks. Intuit announced the date May 31, 2017, of discontinued QuickBooks 2014 version after that date it's no longer support. So, you better get a move on if you are still using one of them. Because of it, you are not able to subscribe to technical support or any other Intuit services if you don't use add-ons.
What does this mean for you?
Basic QuickBooks 2014 product will continue working
If you want to use new features of QuickBooks latest version so you upgrade the latest version of QuickBooks.
Live technical support does not exist after the date.
Also, Intuit will do not good support to register products or retrieve keywords after the date.
This decision will be affecting the following Intuit products:
QuickBooks Pro 2014
QB Premier 2014
QuickBooks Accountant 2014
QB for Mac 2014
QuickBooks Enterprise Solutions V14
Services Discontinued for QuickBooks 2014
All user wants to work with easy, straightforward financial tools. They will help you today and also grow with you tomorrow. So this option is good to balance the QuickBooks desktop better and easier use while still supporting the older version.
What is the Effect of Discontinued QuickBooks 2014?
Many users thoughts about how many services do not support when Intuit discontinued the QuickBooks 2014? After may, 31 2017 following services no longer be able to use. But we always ready to help.
Here we provide all information about QuickBooks 2014 and clear your doubts.
Employer Organiser: You have no longer accessible with this information.
Basic, Standard and Enhanced Payroll: you will no longer automatically calculate correct payroll taxes., provide update forms, or send your payroll data because QuickBooks 2014 stop working.
Workers Comp: QuickBooks 2014 will no longer support the process Workers Comp Payments through QuickBooks 2014.
ViewMyPaycheck: This facility no longer supports for you and your employees.
Live Technical Support will longer be work with you.
If your support plan expires so Online Backup will no longer be available.
Online banking facilities like, downloading transactions or sending/receiving online payments, will no longer work.
Otherwise, if you attempt to download, so QuickBooks is unable to verify the financial Institutions Information for this Download.
Now we discuss the prior year's services, above intuit describe the general terms which services are discontinued. We provide the more specific and comprehensive list of services for you because we want. you have all knowledge about this.
Here are some more specific and comprehensive list of services for you
QuickBooks Merchant Services: This service should no longer process Credit card transactions through QuickBooks 2014. You use the credit card through the terminal. If you are a terminal download customer, you just can't download them to QuickBooks 2014.
1099: 1099 wizard, you might not be able to launch. And you continue to work on and able to use an add-on 1099 e filing services.
Automatic credit card Billing: This service does not work and you won't be able to download transactions. Also, you don't see the user profile related information and you will not be able to access the data you entered here.
QuickBooks 2014 does not longer support Intuit Check solutions.
Bill pay facility no longer be available.
Does not longer support the Accountant's Copy File Transfer(ACFT) service?
Contributed Reports: You should not be able to access any new reports on that platform. And you also not be able to contribute reports.
QuickBooks email also should no longer be available for services listed earlier.
How to manage the New Version Of QuickBooks?
Updating of any system provides you a good facility to work after updating and consultant happy for providing you with an upgrade for the fee.
There are four areas of concern when upgrading:
What features have changed?
New features adding in the latest version of QuickBooks by intuiting every year. Some articles are listed below and these articles give you some idea of want to expect:
Users have the difficulties related to the how the password system works. Many people have answers and get the solution.
Have system requirements changed? System requirements changed is depends on our needs, when we not the compatible oldest version of a system, so we change it. Update the windows 8 in windows 8.1 and if you are using windows 7 you have moved up to Windows 7 Sp1.
QuickBooks 2017 are not supported the Windows Vista or Windows XP, it only supports Windows server 2012 R2 and Windows server 2008 R2 SP1.
Converting your QuickBooks Company file, after upgrading QuickBooks data should be relatively painless going from QB 2014 to 2017.
Firstly you make the backup of the company file if facing the problem related to the database, its help you. You take the help of a consultant if you have any problem related to updating. You install the QuickBooks after the updating it and open the old file in a new program and you see the QuickBooks 2017 will handle the conversion automatically.
If you are a QuickBooks consultant, don't be afraid of the new features of QB 2017. You are able to help the client and provide the better suggestion for the understanding of QuickBooks latest version. Sometimes new things are difficult but we try to ease them for others and you do extra efforts for taking more advantage.
You can subscribe the QuickBooks Pro and QuickBooks Premier as an option if you wish. QuickBooks Accountant and QB Enterprises available through a subscription plan.
Need help with QuickBooks problems, Dial our QuickBooks support Number +1-855-441-4417 toll-free.