Create a Journal Entry in QuickBooks Online
Last Updated on: May 22nd, 2019
Posted by:

admin

Category:

QuickBooks Online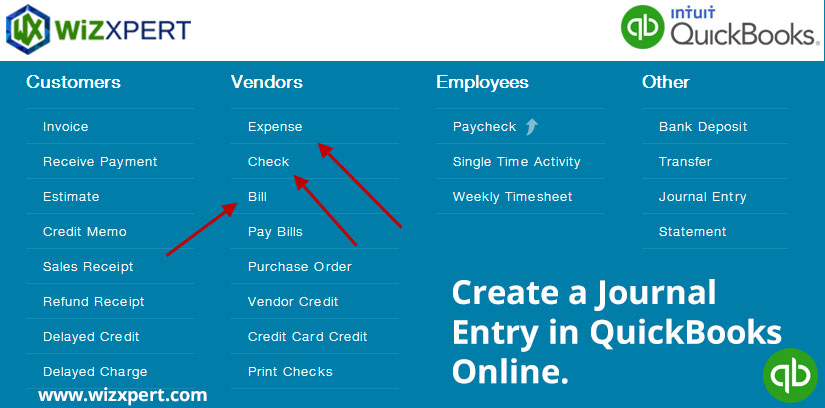 Journal Entry: The accounting transactions that are entered directly into general ledger called journal entry.  General ladger are used to record company's all transactions, as a balance sheet and income statement. Read this article to get detailed information or call our toll-free QuickBooks support number +1-855-441-4417 to resolve all your related queries.
Basically, in accounting, a journal entry has two parts – a debit and a credit.  As you know its a rule that the total of the Debit column is always equal to the total of the Credit column. QuickBooks online feed the transactions in the register or account history as a journal transactions and journal entry on the report where transactions are listed. You can use a journal entry if:
When you have to send money between income and expense accounts.

When you need to transfer money from an asset, liability, or equity account to an income or expense account.

You prefer the traditional system of accounting, that is, entering debits and credits in a general journal or ledger.

How To create a journal entry:
You have to discuss with your accounting professional for guidance If you have no idea for which account receives the Debit and the credit side of a transaction. Now follow the given instructions to create a journal entry in QuickBooks Online:
On the top, choose the Plus icon (+) And then select Journal Entry.

Enter the transaction date In the Journal date field.

You can put a journal number for of a transaction in the report, so you can easily identify the transaction. ( It's optional)

Enter the first distribution line.

Accounts: Any account in the Chart of Accounts.
Journal Code (France only):  Enter the journal code associated with the account. If it's necessary then you can add a new journal code. You have to use the same journal code which is associated with the transaction for both the debit and credit accounts.
Debits or Credits: Normally the first line is Debits. You can find these transactions in the recent transactions report. Check if Debit had changed according to your choice or not After you save the transaction.
Description (Optional): you can enter the description to see the transactions details on reports.
Name: Select a customer, vendor/supplier, or employee associated with the line, if any.

If the sum of the Debit column entries does not equal the sum of the Credit column entries. Continue to enter distribution lines until the sum of both transactions is equal.

Choose to create recurring to make a recurring journal entry schedule (it's optional)

Now Save the transaction.
A few things to remember:
Each currency must have their own journal enter because QuickBooks Online does not support multi-currency in a single journal entry. Sometimes multiple currencies do not convert to the correct rates.
To show on sales or expense tab, make sure that the entry has a line for either Account Receivable or Accounts Payable. And also the name of the vendors or customers.
You can see the additional columns for location and class If you are using QuickBooks Online Plus. And the feature of Classes and Locations is turned on.

If any entry created by mistake and you need to correct the transaction. You can delete or reverse a journal entry.
Author's Words
I hope this will help you to understand the process of creating a journal entry in QuickBooks online. If you still need help then feel free to contact us at our QuickBooks online support number +1-855-441-4417 and talk to a QuickBooks ProAdvisor.
Thanks for your valuable visit. Your visit always motivated us to do better and provide the best solutions for all your queries. you can also visit our QuickBooks community in order to get advice from other business owners. if you can not find your queries there you post your question.