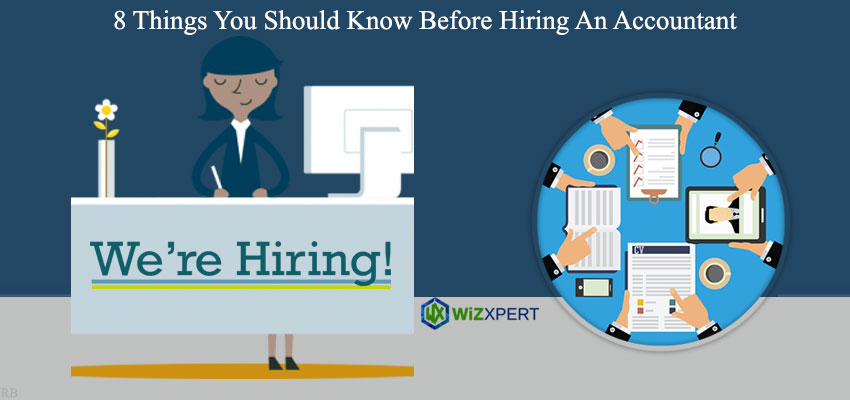 Hiring accountant is very easy, but hiring the right accountant for your business is difficult. When your business grows from small to big at that time you realize that your business needs an accountant to take your accounting responsibilities. But not to worry or feeling tense. As you are going to give these responsibilities with financial information, a few things should be kept in mind before making a decision. If you really need a certified ProAdvisor then these things will help you in choosing the best one.
Main Points to Keep in Mind Before Hiring Accountant
What You Get for Your Money
In Today's world Accounting professionals provide help with everything from bookkeeping services to presenting a document in a tax audit. Some questions always float in your mind. Do you think someone comes and gives you a suggestion regarding the next business plan? Do you think someone comes and helps you to prepare financial projections which in turn secure a business plan? So when you are going to hire an accountant, it is better to think for the long term. So look for someone with whom you can keep in touch and make a healthy relationship that will lead to growth in your business.
Do you really need a CPA?
CPA is commonly known as a certified public accountant & he must have a college degree passed a full-time professional exam and also have state licensing requirements. He has the power to take more responsibilities than other accountants. For example taxpayers in IRS audits. So if you have any kind of these services. Or if your budget is small, tight and needs are fairly straightforward in your business so you can Choose CPA.
Ask for References from People whom you Trust
For better CPA you must ask colleagues and friends for referrals or Better to refer the online website of the American Institute of CPAs (AICPA).
Shop Around
Always find and check at least three accountants or accounting firms before you select one among them. It's professional work. It does not feel shy and afraid to ask a question regarding a vital aspect of your business.
Check Their References
Always take knowledge of client references from potential accountants. One thing to note is AICPA has links to all the state CPA registries. One online tool National Association of State Boards of Accountancy is also available for references.
Find Out How Responsive They'll Be
Never ever place your finances in another's hands just to know about the adequate information. It is better to ask potential candidates regarding their turnaround time for filings and reports. Find out from other references about their responsive behavior to requests.
Get Clear About Rates
One important thing like Fee Structure, Estimates for the monthly cost. You need to understand from an accountant the bill arrives.
Know Your Own Bottom Line
Handing of books to an accounting professional and handling of full responsibility for the financial health both are different parts of your business. Always understand the scenario first then ask an accountant. To do that work and which also ensure accountant level of service to you.