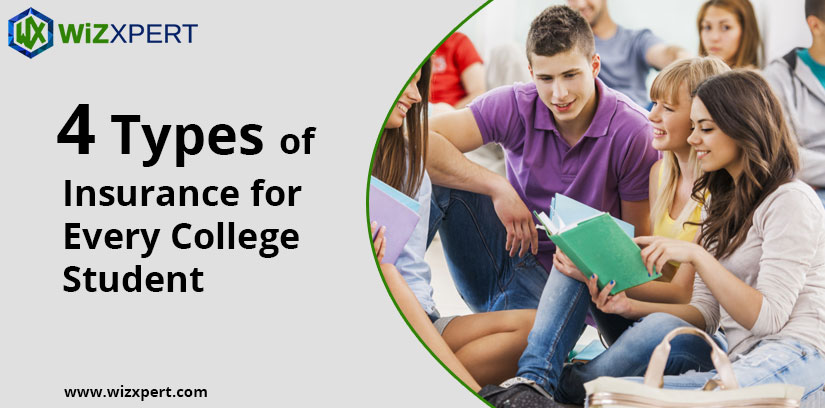 Today is the time to think and rethink over a lot of things to consider for your daughter or son when they begin their college life.
If you are prepared to face the storm with the head-on, you are well and good! According to the report of Now-Health International, health is the most underrated part of the life which the majority of the people do not take seriously to get it secured.
And in the worst case of not, do not worry as that is okay but you should make the mindset to think over it with all of the seriousness and consequences you would face in the long run.
4 Types of Insurance for Every College Student
And here we got…
Health insurance
Renter's insurance
Automobile insurance
Homeowner's insurance
1- Health insurance
Health is the wealth, who disagrees with that fact?
Indeed no one.
And the same is the case (should be) with the college students as they should be protected and backed by the health insurance.
But understand one fact here, a child when living with his (or her) parents, they are covered by the health insurance plan of his or her parents until he or she turns 26.
Of course, there is nothing to worry about, right?
Well… What if your child has to reside in a different state to attend the college?
In this specific scenario, the best is to make contact with the insurance company to ask if your child is still backed being with parents' own insurance plan.
In case not, the student can obtain one through the college.
Yup, if that is possible, go for the latter option to take the dedicated health insurance because it is a must and should NOT be taken so lightweight.
2- Renter's insurance
Most of the college students end up living in the rented space when they move out to attend college.
Well, that is entirely okay but it is easily taught once it is not your own place and you just have to pay the rent and live there without any issues.
Hmmm…. Sorry, you are kind of mistake here.
You definitely need the specific renter's insurance to deal with the hidden possibilities that may occur.
And some of them are…
You cause the damage intentionally or unintentionally but where it is proved you caused them.
Anything gets stolen.
So, get any unforeseen events secured with the renter's insurance.
3- Automobile insurance
Okay, that is not applicable to you if you walk or take public transport to move around.
In this case, you do not need it at all.
But, many college students take advantage of having the car to go to college, travel back and forth from your parents home over the weekend, going to the late-night parties and the grocery store — you have your own means of transportation to save you from so many hassles.
Owning a car does not only mean owning just a car. You need to secure it as well.
Using it not often does not result to NOT have your car get secured using automobile insurance.
Take note of so many scenes where you come into an accident even if you drive reasonably. You could accidentally cause damage to other properties or cars.
These are assuredly covered with automobile insurance and drive your car with so much peace.
4- Homeowner's insurance
Being a college student does not mean all of them to have to just live in the rented space.
Maybe some of them can definitely afford to live under their own home, isn't it.
So, if that fits with you to own a home, do not delay in getting subscribed to the good homeowner's insurance.
You should do without any hesitation and delay as the homeowner's insurance does provide security against many unseen scenarios which one hardly thinks of in their dreams.
But this is the world and there is no guarantee that nothing can ever happen to you of what the homeowner's insurance pinpoints the possible issues.
Homeowner's insurance provides the protection from not only inside the home and against the theft but your yard and the home's structures are well protected as well.
Under many scenarios, college students can take advantage of their parent's homeowner's insurance if they are covered.
To make sure if they are, get in touch with your insurer to find out.
For more information: Read, QuickBooks Student Discount
Conclusion
Many students do not take the insurance seriously and often turn down such opportunities but in the good reality, it is the well-needed part that they should at least listen to the benefits of having them.
Owning the car, or home, and even renting the place; all of them should be protected and secured against the possible negative circumstances a student could face with not now but letter… But there is always the possibility.
But for health, it should NOT be entirely avoided to take onboard. Health is the one that any college student should have plans to have it covered, and that is possible with being enrolled with a health insurance plan that suits you well.
Take advantage of these four types of insurance for every college student to live a secured and covered life.