What versions of QuickBooks are supported on Windows 10?
Last Updated on: January 29th, 2018
Posted by:

admin

Category:

Quickbooks Enterprise
Microsoft released its latest operating system, Windows 10 on 29 July 2015. You do not requires to update to Windows 10 from your current OS, it's an optional update. In this article we will share you some important information related to Windows 10, QuickBooks and which version of QuickBooks are supported on Windows 10.
You may also like: QuickBooks Desktop Security Updates & Information
What are the new updates in windows 10
The new start menu looks more similar to start menu of windows 7.
Windows 10 consist of virtual desktop also know as task switcher.
It also have a new version of .Net framework (4.6).
Even though Internet Explorer 11 is still available for use, window 10 consist of a new browser called EDGE.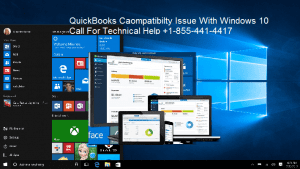 QuickBooks 2016 R7 and later
To much of the delight for the Quickbooks user QB 2016 R7 is certified to work with windows 10. If you are using a release of QuickBooks 2016 earlier than R7, you will need to update QuickBooks to the latest version to work in Windows 10. But if you are using QuickBooks 2016 R7 and later, you do not need to update anything, you can easily work on Windows 10.
Related article: How to Run QuickBooks Online Faster?
QuickBooks 2015 and QuickBooks 2016 (R1-R6)
In initial testing, Intuit have not found any big issue with QB 2015.For more detail about which operating system are supported visit our QuickBooks Online Support. If you want to open QuickBooks 2015 on Windows 10, you should make sure that you have enabled .NET framework 3.5 which is mostly disable by default from Microsoft, so that you can have the best experience possible while using an operating system that do not support Quickbooks.
Read More: How to install/uninstall the plugin in QuickBooks?
For Ensuring that .NET 3.5 is enable for QuickBooks 2015
Click Start and search Turn Windows features On or Off.

After search, click on Turn Windows features On or Off.

Now you will see an option for .NET Framework 3.5, ensure that it is enable at the top.

If it is not enable, click in the check box to enable it. After this reboot your system.

If it is already enable, click Cancel and don't do any action.
QuickBooks 2014 and earlier
QuickBooks 2014 or earlier is not supported in Windows 10. You have to update your QB, if you are using QuickBooks 2014 and earlier.
For more information about which version of QuickBooks supported in Windows 10 you can contact our QuickBooks Technical Support Service Number "+1 855 441 4417". Here you find full detail and help about this.