The causes of QuickBooks Point of Sale Unexpected Error are:
Your computer does not meet the minimum system requirements.
Point of Sale Database Manager may not be running properly.
Microsoft.NET framework is damaged or might not be properly installed in your system.
There are four solutions recommended by it experts to resolve the Point of Sale Unexpected Errors
which is given below. Just follow the solutions in the proper sequence for successful resolution.
When you starting the error fixing solutions first you need to check that your computer meets the
system requirements to run Point of Sale software. The solutions are below mentioned.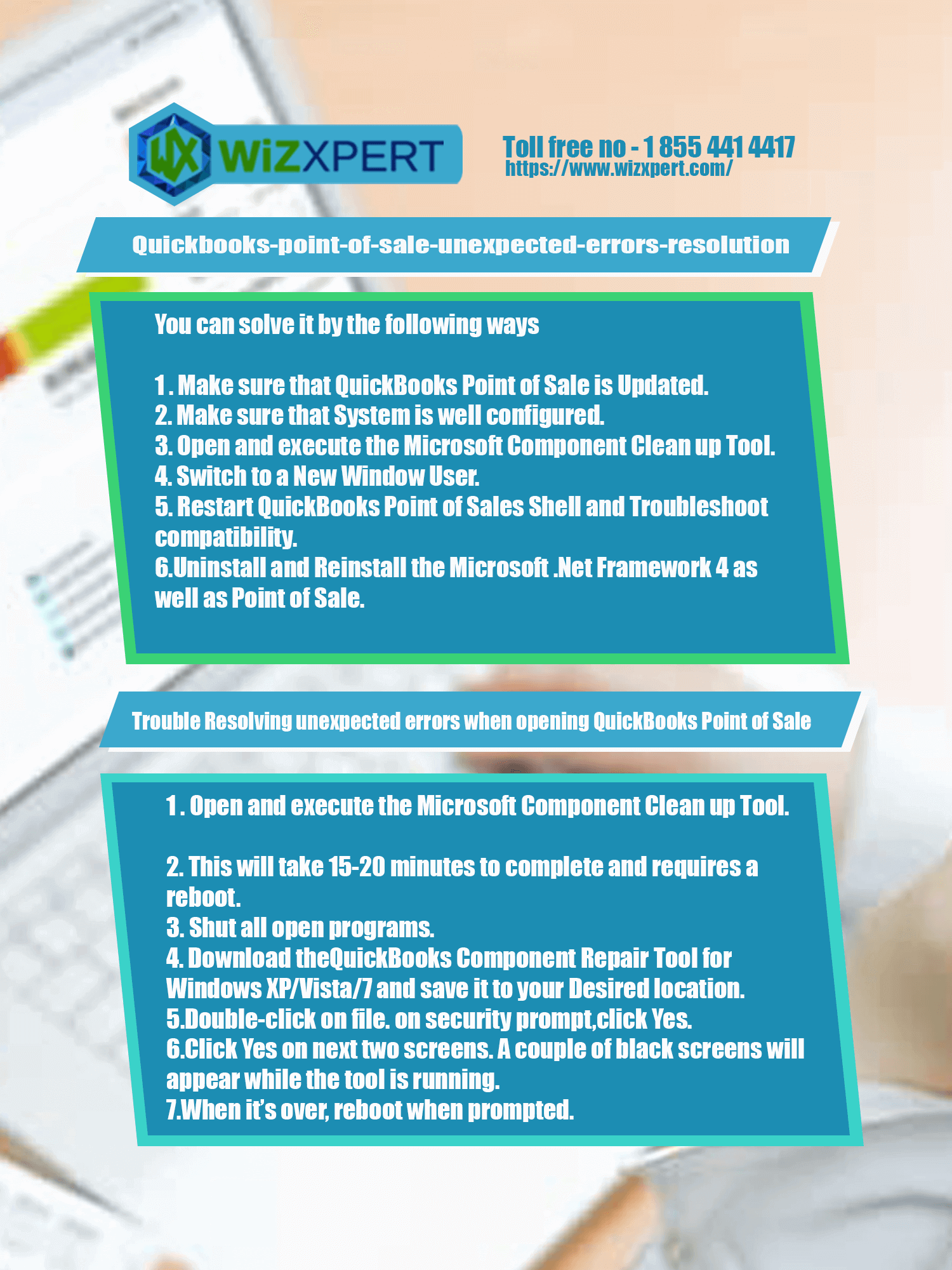 Solution 1: Ensure that all the Recent Point of Sale updates are installed in your
computer.
Prior completion of the update of POS and resolution of the issue you have to rename the
entitlement clients folder.
● Go to the product updates page and
● Select Point of Sale is selected as your product
● Follow the instructions to install a Manual update for POS
● Reboot the system later
Solution 2: Check all the System Requirements Properly Matches to Run the POS
Verify the least RAM requirements for your POS version.
For verifying the Ram of your computer:
● Click the Windows Start button
● Click on Computer
● Choose Properties
● Check the Installed memory (RAM).
In case your system comprises insufficient RAM, check with a computer professional expert
regarding adding memory. In case the RAM in your computer is sufficient then follow the next
solution.
Solution 3: Run the Microsoft Component Clean-up Tool
It smart repair tool identifies the problems with Microsoft features Point of Sale . It automatically
detects the errors and resolves with the following Microsoft components:
● .NET Framework
● Visual C++
● MSXML
Solution 4: Attempt a New Windows user
● Go to Windows Start-> Enter User Accounts in the search field -> Enter.
● Click Manage user accounts -> Choose to Manage another account.
● Choose to create a new account and give it the name of Test.
● Select Administrator for user type.
● Log off Windows -> sign in as the new user you created and access Point of Sale again.
Solution 5: Close and Restart QBPOSShell and Troubleshoot compatibility
● Close Point of Sale software
● Click Start Task Manager if required
● Then Click the Processes tab -> Click the Image Name column title to sort it alphabetically.
● Click QBPOSShell.exe -> Click End Process.
● In case you see more than one QBPOSShell, follow the steps below to troubleshoot
compatibility with Windows.
● Close Task Manager
● Open Point of Sale application.
We wish this instruction is really helpful for you. For more information about importing
invoices into QuickBooks, visit our site QuickBooks point of sale support. You can ask any query related to it from well qualified and experienced accounting experts 1855-441-4417.