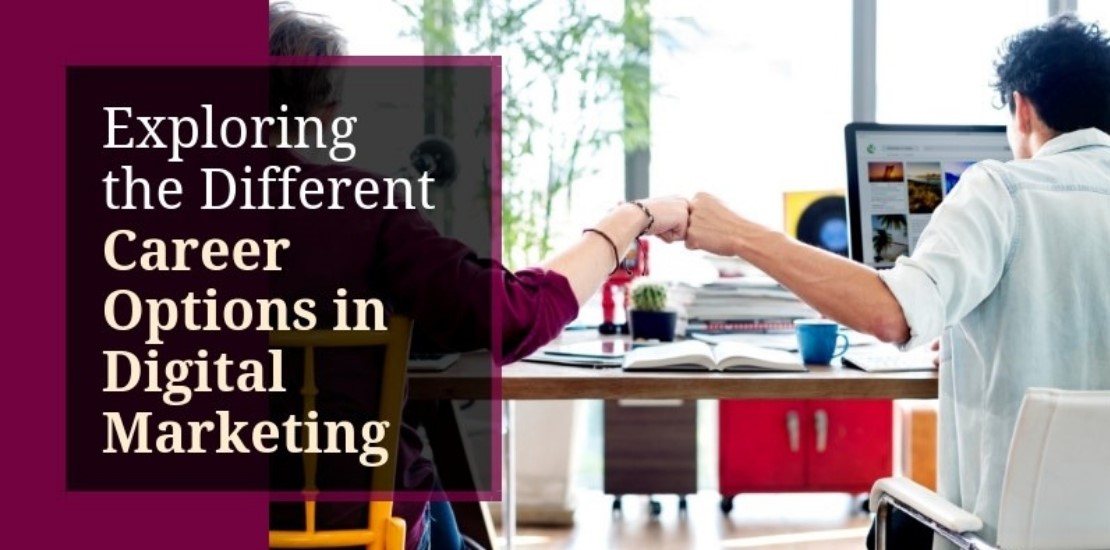 Digital marketing is fast-growing technology in the market and became the backbone of revenue creation in every company. Regular established brick and mortar companies are also recognizing the advantages of staying on top of digital marketing.
Knowing about the various career options in a particular field always helps in many ways. It becomes easy to decide as to which path to take, and what should be the approach. Over here, we are going to explore the various job titles, as far as a career in Digital Marketing India is concerned. Having knowledge about these would help you find Career Options in Digital Marketing, and what path to pursue.
So, Let's Explore Career Options in Digital Marketing…
1. Search Engine Optimizer (SEO Executive)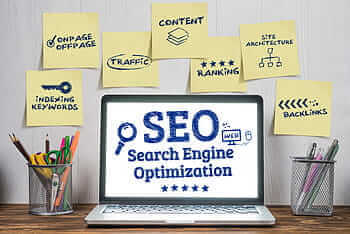 Rather than spending on Google AdWords campaigns, with proper search engine optimization, one can obtain free traffic via Google. This being the reason why there is a huge number of opportunities identifying with the SEO Executive profile.
An SEO expert or an SEO executive's job comprises of tasks like user experience optimization, handling webmaster tools, keyword research etc. An SEO professional ought to be a specialist with the use of different sorts of SEO tools in the market. For instance, a standout amongst the best-known SEO tools for Digital Marketers happens to be Moz.com.
SEO experts happen to report to Digital Marketing managers. Be that as it may, majority SEO experts do not handle a team, and turn out to be individual contributors.
On average, the salary range for SEO could vary from 1 to 4 lakhs in case of freshers. While in the case of the experience, it can reach up to 30 LPA.
2. Content Marketing Managers
As you know that Content marketing is the responsibility of the Content Marketing Managers. So Content marketing incorporates blog management, email communication, video marketing, some bit of PR, guest blogging etc. Content marketing managers usually report to either the marketing head/VP or Digital Marketing managers.
Content writers who report to Content Marketing managers are generally freelancers who create content by either working from their home, or by working part-time.
They can either be solo contributors, or they can manage a content writers team.
Content Marketing Managers are known to earn in the range of 10-15 lakhs per year; all things considered. The necessary experience needed for this position is anywhere between 3-5 years.
Digital Marketing Courses in Pune, or the ones in your place, would prepare you for these positions of a career in Digital Marketing. So, look for a proper course, and do enroll for it.
3. Web Analytics Expert
Being in the shoes of a Web Analytics expert, you would be in charge of analyzing the site visits, search engine results, a number of clicks per link, and email delivery statistics, so as to decide the success level of a specific marketing campaign. You would likewise be using tools such as website surveys, web-analytic reports, and multi-channel analytics in order to assess the effectiveness. You would be associating with other Digital Marketing professionals, put forth your view of the data, and assist them in optimizing the potential success of the existing and forthcoming marketing campaigns.
Analytics salaries in India have soared in the past 5 to 8 years. Back in 2005, an organization would recruit a graduate or a post-graduate at an entry-level analyst position for an average package of Rs 1.8 lacs per annum. Off late, campus salaries for this position have been reported in the range of Rs. 6 lacs to Rs. 12 lacs!
4. Social Media Marketing (SMM) Expert
Social Media Marketing basically comprises of two areas. One of them is the promotion of the possessed content by means of social media channels. This can be carried out by either a Content Marketing Manager or a member of the content marketing team.
But, running of paid advertising in Social media needs some level of expertise. For instance, Facebook advertising has turned into a complicated task these days. New targeting options and features are included every day, and a Digital Marketing Manager or a Content Marketing Manager can't deal with it all alone. A Social Media Marketing (SMM) Expert is needed.
In case you wish to make a career in the Social Media industry, the average Digital Marketing salary would be in the vicinity of Rs. 328,300 per year.
5. Inbound Marketing
Here is a specialization area associated with Digital Marketing that is concerned with acquiring users, instead of the marketers venturing out to get their attention. It involves winning over the attention of customers, and attracts them to the site, using interesting content. The salary for the various Inbound Marketing positions ranges from Rs. 4 lacs – 6 lacs per annum.
6. Search Engine Marketer/Specialist
The objective of a Search Engine Marketer/Specialist is to get the pre-decided number of clicks and leads from the allotted marketing budget. The majority of the work is comprised of keyword research, analysis, bid management, ad copy-writing and split testing of the ad campaigns.
On the off chance that it is a small scale organization, Digital Marketing Manager has to handle search engine marketing. At times, it can be outsourced to a Digital Marketing firm that will handle the search engine marketing campaigns for a cost.
While bigger organizations need a devoted SEM (Search Engine Marketing) professional. At times, even a team required. Search Engine Marketers have to report to Digital Marketing managers.
There is no particular requirement as far as the experience is concerned. Small organizations even recruit freshers. However, some of the established organizations need individuals with a number of years of experience.
On an average, the salary compensation for Search Engine Marketers is around Rs. 460,000.
7. Copywriter
The job of a copywriter involves creating all the content for different channels of Digital Marketing campaigns. A copywriter would concentrate on writing explicitly for the different media channels, e.g. social networking platforms, website content, e-mail blasts, etc. You would be working in association with the Digital Marketing team and utilize your writing abilities within the scope of the campaign strategies to deliver attractive, unique and engaging content.
The average compensation for a copywriter is around Rs. 298,000 per annul.
8. PPC Marketing Manager
The role of PPC Marketing Manager is to supervise pay-per-click campaigns. You will be liable for managing customer campaigns on Google ads and Bing, Facebook, and Instagram. You will have these following responsibilities, i.e. Audience targeting and keyword choice, Writing Copy, Operating A/B testing Data analysis, Improving traffic, and decreasing ad spend by optimization.
This career option is best for people who like statistics and data. PPC is about examining data sets and use the knowledge to your advantage.
Eligibility criteria for this job to have a bachelor's in Marketing, Digital Media, or a related field, and have a certification in Google Ads is an asset.
9. Bloggers
The initial job of a blogger is to write, edit, and publish content on a website or blog. The main goal of a blogger is to boost traffic with writing content that is appropriate and informative to the reader.
The initial job of a blogger is to write, edit, and publish content on a website or blog. The main goal of a blogger is to boost traffic with writing content that is appropriate and informative to the reader.
Advertising products from affiliates
Writing & examining articles
Implementing valuable tricks and advice to readers
Rising ideas
Staying up to date on social media trends that are related to the business
Keeping the brand's image and tone in all posts
Developing the brand over social media
Operating with the SEO team to execute keywords
If you love to learn and research, then this is the best option for you. If you want to work with bigger, reputed organizations, you may need a bachelor's in English, journalism, or communication. But, digital marketing is a freelancing game, and anyone can be pretty successful at putting words together well and synthesizing information.
With these being some of the popular career options in Digital Marketing, there are a handful more that you can find about. Multiple good options to choose from!